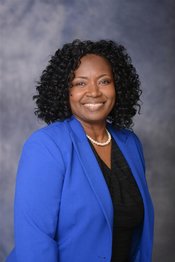 Dr. Amy Carter
Greetings from the Superintendent
It is my pleasure to welcome you to the Meridian Public School District! This is an exciting time to be a part of the Wildcat Nation!
I am so glad that you have taken a moment to visit our website. The MPSD website has been designed with you, our parents and community, in mind. I am excited for you to learn more about the outstanding things our school district is doing to prepare all students to be literate, self-directed learners who are ready to compete in a complex and ever-changing world.
For parents, I hope this website will help you stay connected with your child's education. I believe that informed parents and community members are our greatest supports as we strive to provide quality instruction for every student in every classroom.
The Meridian Public School District offers the students of Meridian a vast array of learning opportunities, including: small learning communities, ten Advanced Placement (AP) courses, arts-integrated curriculum, pre-kindergarten program, a large number of elective course offerings, and many extra-curricular clubs, organizations, and sports teams. As an added bonus, almost half of the MPSD educators hold an advanced degree and/or National Board Certification!
As we work to advance our success, I, along with the Meridian Public School District Board of Trustees, have established several goals and priorities. These priorities include establishing a stronger school and community presence early-on and implementing collaborative plans that build upon the excellent work that has already occurred throughout the District. Another priority of the District is providing a high quality education for all students, and I am elated to announce that MPSD will have a one-to-one technology initiative in fifth through twelfth grades. The goal of this initiative is to focus on technology integration to enhance instructional experiences for our students.
As a former teacher, principal, district administrator, and assistant superintendent with over twenty years of educational experience, one of my goals is to build upon long-standing, established relationships throughout our community including those in the medical and arts fields. I have enjoyed interacting with our students, staff, and community members and consider them as my second family. I am also looking forward to building new relationships and partnerships in my role as Superintendent.
As the new Superintendent, I have a personal vision that our schools will develop good citizens and leaders of the future by providing a world-class education for the families in our Meridian community. I am honored to provide district-wide leadership to help our schools achieve this goal.
I am convinced that the success of our school system depends on the skills and talents of outstanding employees who partner with parents, business partners, and the community to help move students forward. Our focus will be to continue to strengthen our partnerships with all of our stakeholders, and our children benefit from these relationships.
I would like to personally thank you for your support of me as the next visionary leader and for the opportunity to continuing serving the students, staff, parents, and entire MPSD Wildcat family.
Always Believe in Blue,
Dr. Amy J. Carter
Superintendent
email: amcarter@mpsdk12.net
phone: 601-484-4915