One local grandparent is going the extra mile for her grandchildren's school. Former educator and devoted grandmother, Dr. Carrol Wicker, is helping Poplar Springs Elementary School in a very unique way.
In August of 2011, Dr. Wicker opened "215 Panda Place" inside the Atrium Mini Mall located on Highway 493 next to the new Mugshots restaurant. "215 Panda Place" offers a unique assortment of new and like-new items including home décor, costume jewelry, upscale children's clothes, and cook books. All items for sale in the store have been generously donated and all proceeds go directly to the Poplar Springs Parent and Teacher Association (PTA).
Dr. Wicker said, "I feel that grandparents are one of our greatest untapped resources. We, as grandparents, are all interested in our grandchildren and want to enhance their school experience, so what better way than to join and become involved in the school PTA."
Through the store sales, PTA and Wicker have already been able to give each teacher at Poplar Springs a one hundred dollar gift card to buy supplies for their classrooms. The store operates at no cost to the school as the rent for the store location is paid by a PTA donor. Dr. Wicker estimates that sales so far this school year will reach over $5,000 with almost $800 in April alone. Of which, every penny will benefit the students of Poplar Springs.
Dr. Wicker's goal for the store is to eliminate the need for teachers and students to be involved in fundraising, but she says that "the only way to keep this going is through donations of merchandise-they are key. We have had donations not only from families connected to our school, but from people throughout the community."
Poplar Springs Elementary Principal LaVonda Germany said, "We truly appreciate that Dr. Wicker is using her retirement to continue to give to students, and we encourage any parent, grandparent, aunt or uncle to find a way in which they can contribute and be involved in the school."
"215 Panda Place" is open year-round at the Atrium, Monday through Saturday from 10 a.m. until 7 p.m. and Sunday from 1 until 5 p.m. Whether you would like to donate items to be sold, shop for your home or for a gift, there is something for everyone.
For more information or questions, please contact "215 Panda Place" Manager Dr. Carrol Wicker at 601.447.8420 or carrolwick@comcast.net.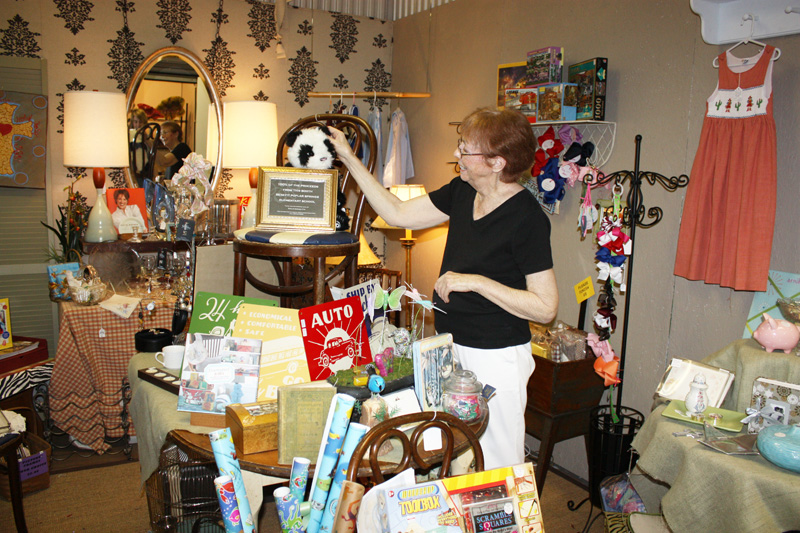 Dr. Wicker arranges new merchandise in 215 Panda Place.