MPSD and Community Partners Launch Innovative Solution for At-Risk Youth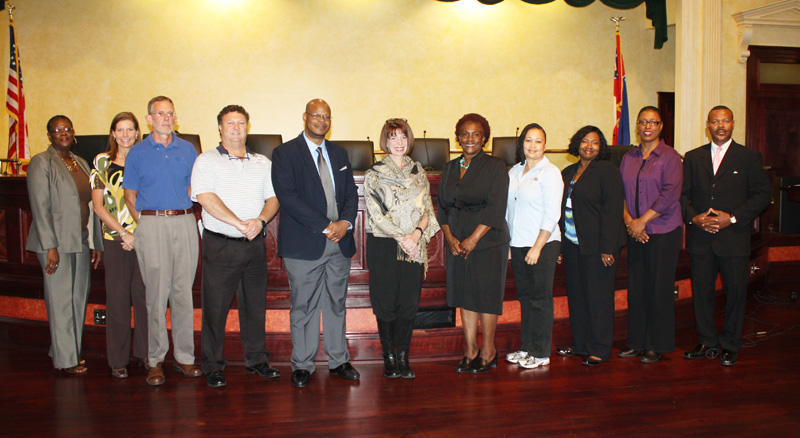 Making a Change Program Community Partners pictured from left to right: Gwendolyn Graham, Weems Mental Health Day Treatment Supervisor; Dr. Lee Lee Marlow, Director of Children and Youth for Weems Mental Health; Maurice Kahlmus, Executive Director for Weems Mental Health; Ken Dupree, MCC Workforce Development; Dr. Alvin Taylor, MPSD Superintendent; Cheri Barry, Mayor of Meridian; Gloria Baylor, MAC Program Instructor and Facilitator; Fannie Johnson, Director of Love's Kitchen; Dr. Amy Carter, MPSD Assistant Superintendent of Student Services; Ceatrice Kelly, NFusionX Coordinator; and Reverend Stevie Mosely, Men for Change.
What happens to youth that have been expelled from school? The answer to that question has burdened many in the community including the Meridian Public School District for many years. That is, until recently, when an innovative solution was created to help address the needs of these at-risk youth. The solution is called the Making a Change Program.
Making a Change, currently a pilot program, was cultivated through meetings with MPSD officials, officials from the city and county, and representatives from various agencies who were all looking to enhance efforts to reduce the dropout rate and concentrate on the needs of at-risk youth.
"We want all youth, even those that may have made poor choices in the past, to be able to have a bright future," said Dr. Amy Carter, MPSD Assistant Superintendent of Student Services. "We want to see them graduate from high school and have the tools they need to be successful."
The MAC program is a joint partnership between the Meridian Public School District and the Lauderdale County Board of Supervisors, Love's Kitchen, Meridian Community College Workforce Development, Meridian Mayor Cheri Barry, Men for Change, NFusionX, and Weems Mental Health Center.
"The Meridian Public School District wants to truly thank these community partners for making the MAC program possible," said Superintendent Dr. Alvin Taylor. "And, we would like to say a special thank you to Weems Mental Health Center Executive Director Maurice Kahlmus and Director of Children and Youth Services Dr. Lee Lee Marlow for their tremendous support and generous donation of resources."
The program provides online learning, one-on-one tutoring, counseling, mentoring, and workforce development opportunities. It is designed to help youth stay on track for graduation or create a career plan.
MAC Program Instructor Gloria Baylor, said "If the MAC program could be defined by a geometrical shape, I would describe it as a circle. In the middle of that circle are the MAC students, surrounded by a perimeter of caring and competent adults working together to teach children how to succeed. To quote an old African adage, 'It takes a village to raise a child.' The MAC program epitomizes the 'village' concept because children receive support from all stakeholders."
The program began serving expelled youth from middle and high schools on September 10, 2012. As a pilot program, it can serve up to 18 youth in its current format. However, school district officials are hoping to increase the number served in the future.
Meridian Mayor Cheri Barry said, "Dr. Alvin Taylor and his team at the Meridian Public School District have created real education solutions for our community and our at-risk youth. This is innovation. I'm honored to partner with them."