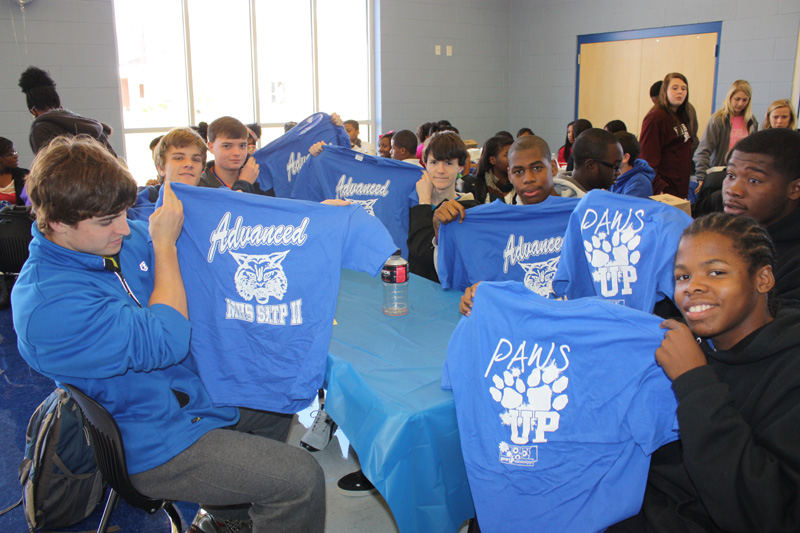 MHS "Advanced" students show off their new t-shirts at the SATP Bash.
MHS Honors 123 "Advanced" Students!
Meridian High School recently honored 123 students that scored "Advanced" (the highest level) on one or more of the 2011-12 Subject Area Tests. The students had a special lunch to celebrate and received a t-shirt. The celebration was made possible through the Gear Up program.
Congratulations to the following students:
U.S. History
James Alford
Deonte Brooks
Shaciarra Drake
Mayah Emerson
Erica Fera
Brianna Foy
Joseph Goldman
Adam Goodman
William Harrison
Holly Howard
Saeed Hudson
Arnesha Jackson
Micah Jordan
Felicia Jones
Benjamin Lampton
Joshua Lindemann
John McCool
Jazzmin Moore
Nicholas Parker
Emma Reeves
Jontaidra Rhone
Alex Ricks
Tyserria Smith
Raejean Spears
Thomas Spivey
Kirsten Todd
Emily Ware
James Welch
Jaquarious Williams
Bradley Willis
Perry Winford
English II
ABEL LISA
ALFORD JACOBY
BATOR ANDREW
BEAUDOIN ERIN
BRUISTER KATHERINE
CHESNEY DEVYN
CLARK JOZLYN
COLEMAN LAQUIDRA
COREY ZACHARY
CROSS CHRISTOPHER
DOVE ASHLEE
DRURY KYLER
ELLIS SCOTT
FERA MATTHEW
GADDIE LAUREN
GLENN KATIE
GOODMAN AVERY
GORDON KAYLA
GOREE EBONIE
HAMILTON MAVERICK
HEARN OCTAVIA
HOPKINS JABRIA
HUBBARD KYLER
JONES KAMIYAH
KELLY PEARSON
KEY JASMINE
LAWSON DIAMOND
MCCRAW CLAIRE
MCGINNIS CAROLINE
MINTA GARRETT
PAUL EMILY
PERRY BRANDON
PUCKETT STEPHANIE
REED ASHLEY
SIMS CATHY
SMITH KRISTIN
SWANSON MICHAEL
TAMAYO WALQUILLE
THORNTON KINSEY
VELOTAS EMORY
WASHINGTON TYNESHIA
WHITE JORDYN
WILLIAMS KYLA
WILSON JAKARA
WITHERS HANNAH
Biology
Chance Anderson
Doorress Anderson
Traci Bryant
Laura Creekmore
Alexi Crockett
Kia Davis
Mayah Emerson
Myi Fikes
Chasity Hawk
Kaval Patel
Deja Price
Liyah Smith
Desaun Spain
Kirsten Todd
Algebra I
Jashanti Alford
Maliya Alford
Harvey Anderson
Darrionni Barfield
Briana Bass
Lee Bebley
Daneil Bridges
Alex Brooks
Breana Byrd
Davante Carter
Teia Cole
Tajah Collins
Mikala Evans
Robert Gray
Joshua Johnson
Taleiah Jones
Joyce Ohara
Anthony Overstreet
Labresha Ramsey
Mykel Randle
Cedric Rogers
Kyriell Short
Christopher Smith
Breanne Stewart
Chelsi Stewart
Eriana Thomas
Briana Turner
Perry Winford
Andro Young