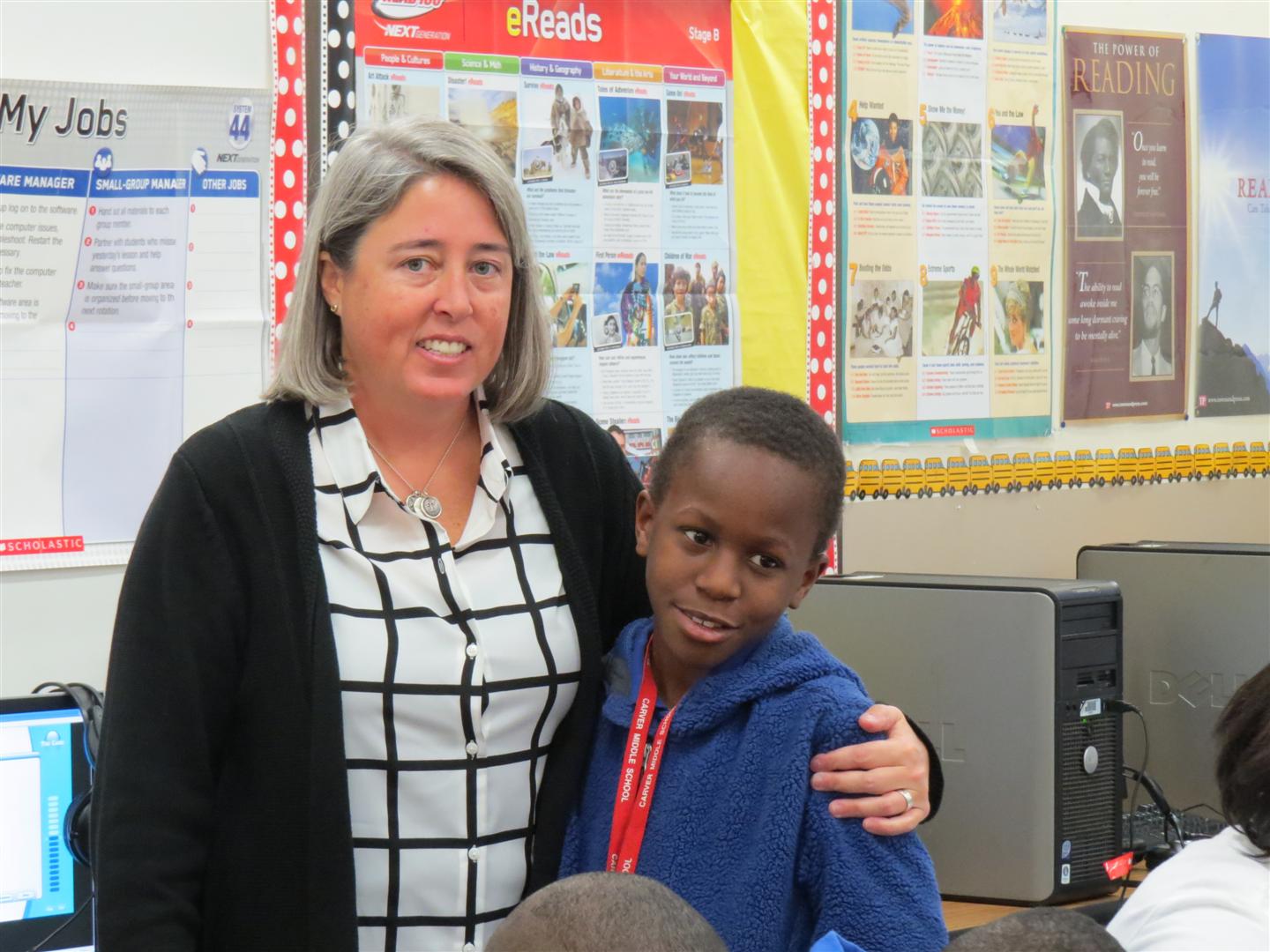 Ms. Plott (left) and Carver student Travion Brown (right).
The Junior Auxiliary of Meridian has named Tiffany Plott, Carver Middle School Principal, as the Humanitarian of the Year! Ms. Plott will be formally recognized at the JA Ball on Saturday, January 18.
Congratulations Ms. Plott! We are so proud of you!
Below are portions of Ms. Plott's Nomination Letter from JA:
Tiffany Plott is this year's Junior Auxiliary Humanitarian Award recipient. Tiffany is currently the Principal at Carver Middle School, where she has served in that capacity since 2010. Despite many challenges, Tiffany and Carver Middle School, under her leadership, has become a positive beacon of light in this community. Tiffany has shown amazing creativity; openness to students, parents and staff; a desire to educate the whole child; a need for consistent and fair discipline; and an emphasis on the relationship with the individual child. It is apparent to all that are involved with Carver that the school is now thriving under her direction and that students are excelling academically and personally.
One of the main reasons that Ms. Plott has been able to have such success at Carver is her open door policy to her students, staff, and parents. She makes herself available at all hours to her "family". Tiffany makes it her priority to know all of her students names, who their siblings are, and keeps tabs on how they are doing both inside and outside of the classroom. Emphasizing relationships is a key component of her leadership style.
Another advancement under her leadership has been an overhaul to the Accelerated Reader (AR) Program. Every student at Carver now has a library period built into their schedule. Next, Tiffany challenged the entire school to master 16,000 AR points for the year. She even pledged to dye her hair different colors as they neared their goal. Students were given prizes for reaching certain points. By the end of the school year, CarverMiddle School students had reached over 22,000 AR points, and Ms. Plott had to dye her hair multiple times. One lucky student received a new Kindle for having read the most books in the school. This program is ongoing and continues to challenge the students to read.
The atmosphere at Carver Middle School is orderly, calm, and pleasant. Ms. Plott and her staff often give of their free time to reward well behaved students with dances after school, movies in the gym, and parties in the classroom. At the Awards Program last spring, the gym was packed with families overflowing into the hall. Tiffany and her staff gave an award to every student who had not received an office referral during the entire year. What an amazing sight to see the rows and rows of students lined up with proud faces as they received what would probably be their only award. School pride is evident throughout the student body.
Finally, Tiffany Plott and Central United Methodist Church have partnered together for the last three years. Central provides prayers, tutors, mentors, money and tangible items such as coats, blankets, books, and belts. In addition the church does a lunch for the staff two times a year. Both the church and the school would agree that this partnership has been a blessing for all involved.
Tiffany is a true hero in our community. She has shown this by her willingness to give of her time, energy, and expertise to the students and families at Carver Middle School. Her job is not an easy one as she has to handle not only academic issues but also social ones on a daily basis. Ms. Plott sees firsthand the challenges that face our youth today, and she engages herself in the fight with the hopes that her "children" will succeed both inside the classroom and the world outside as well.
Outside of the classroom, Tiffany presides over the Care Lodge Domestic Violence Center Board of Directors, has coached the Meridian High School Girl's Golf team, sits on the Briarwood Country Club Board of Directors, is part of the Briarwood Ladies Golf Association, and is the Children's Co-Coordinator at LauderdaleUnitedMethodistChurch. She also has been honored by receiving the UWA Julia Tutwiler Educator of the Year award in 2011.