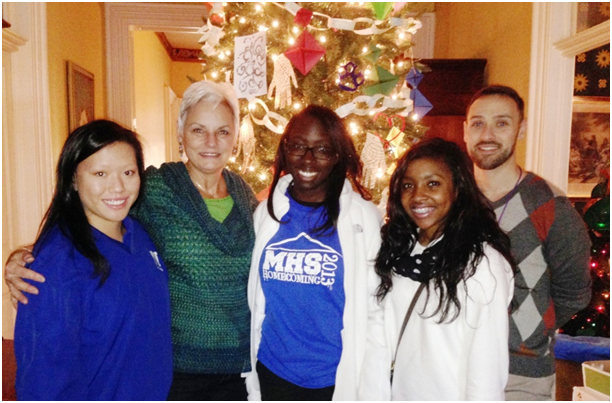 MHS students and instructors pictured in front of the MHS Tree are (from left to right) Rosey Lau; Marsha Iverson, Heather Hill, Alexus Graham, and Robert Larocco.
Several classes at Meridian High School participated in the 45th Annual Trees of Christmas at Merrehope/F. W. Williams houses this holiday season. The theme was "Exploring our Sapphire World."
For 45 years, Foundation volunteers have presented the holiday extravaganza, which is a major fundraiser for the upkeep of the two historic homes. The tour features a wide variety of stimulating and educational themes displayed with beautiful decorations and creative designs.
"I wanted to involve as many students as possible from our student body at MHS," said Mrs. Iverson, Visual Arts Chair. "After presenting the idea to the Art Club, they came up with the idea of representing the various cultures that attend MHS and make up 'our' world on a day to day basis."
Students in all the art classes as well as the French classes contributed their handmade ornaments. They made Mendhi Hands and origami shapes representing our Asian students, God's Eyes representing the Hispanic population, papier mache' balls painted in the colors of Africa, and beautiful glittered ornaments with a French flair. The ceramics students made MHS paw prints to represent our "Sapphire Blue World" here at Meridian High School.
"This theme is in keeping with the National Geography Awareness Week guidelines, which features the theme 'Exploring the World in a New Age,'" said Karen Wallace, Trees of Christmas chairman. Wallace also serves as a Mississippi Geographic Alliance (MGA) teacher consultant.
Two students, Rosey Lau and Michael Swanson, were on hand for the opening reception to act as guides and talk about the MHS tree.
The trees were on exhibit from November 24, 2013 through January 1, 2014.