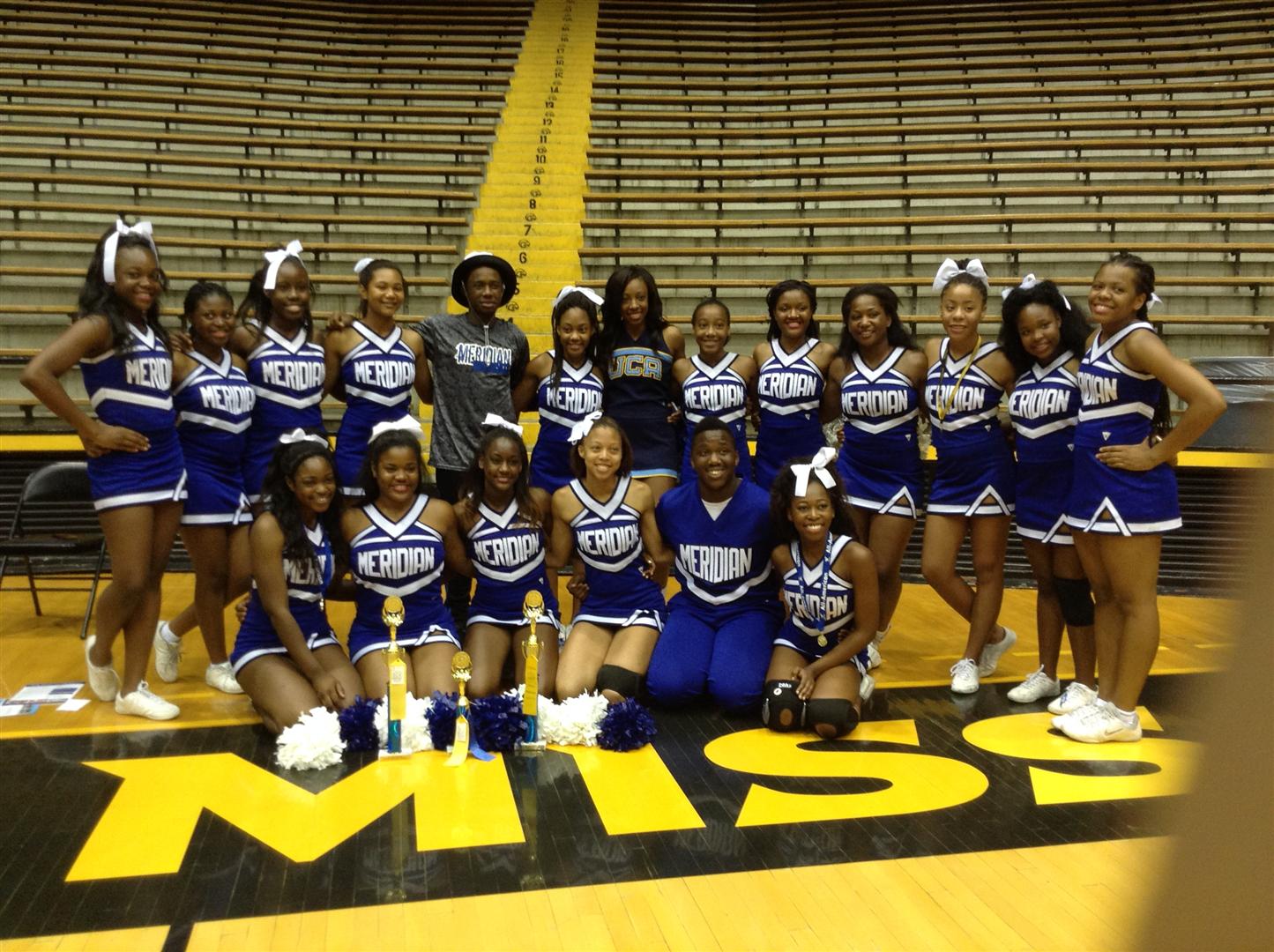 The 2015-16 MHS Cheerleaders pictured left to right: (standing) Kristian Nash, LaKeitha Brown, Nikya Powe, Zion Roberts, Jeffrey James, Jaleena Hopson, Azia Whtehead, Krystal Gates, Alyssa Ricks, Akaiya Clayton, and Zykerria Harbin; (sitting) Tanika Williams, Joscelyn Rue, Krislyn Brown, Caitlyn Hearn, Cardarius Moore, and Nakita Davis.
The 2015-16 Meridian High School Cheerleaders attended Universal Cheerleaders Association (UCA) summer camp at the University of Southern Mississippi recently and placed second in the Large Varsity Division. The cheerleaders were also awarded Camp Champions in Sideline Cheers, and they received Superior ratings throughout the week in Extreme Routine, Sidelines, Cheer Evaluations and Home Pom Dance. Wally the Wildcat earned an overall Superior Rating as well.
Cheerleaders Tanika Williams and Nakita Davis made the All American Team and have the opportunity to travel to London, England in December. Williams and Davis were also asked to try out for the UCA cheer staff. Alyssa Ricks and Cardarius Moore were awarded "Pin It Forward" pins by the UCA staff.
Meridian High School holds cheerleading tryouts in the Spring of each year, and participants are judged in the following categories: jumps, tumble, dance, cheer, and fight song. The function of the squad is to support various athletic programs at MHS as well as to participate in the statewide cheerleading competition sponsored by the Mississippi High School Activities Association. Activities of the squad include planning and performing at pep rallies to promote school spirit, cheering at football and basketball games, holding children's clinics in the fall, planning and holding pep rallies for various elementary and middle schools of the district, as well as many community activities.
MPSD is very proud of the 2015-16 MHS Cheerleaders for their accomplishments at Cheer Camp!