« Back to news list
Poplar Springs Elementary Receives Mississippi Arts Commission Grants
Poplar Springs Elementary has been awarded two grants in the total amount of $4,500 from the Mississippi Arts Commission. These grants are a portion of the $1.5 million in grants the Commission will award in 2011-12 and will be used to fund visiting artists at Poplar Springs Elementary. The grants are made possible by continued funding from the Mississippi State Legislature and the National Endowment for the Arts.
Principal LaVonda Germany said, "Being part of the Whole Schools Initiative has been an amazing journey for the staff and students of Poplar Springs Elementary! The Mississippi Arts Commission has been very generous through their grants, and this year is no exception."
Having completed the MAC Whole Schools Initiative, Poplar Springs Elementary School staff integrates the arts into the core curriculum with the goal of improving student achievement and student engagement. Visiting artists and arts educators as well as teacher training are core components of the arts initiative at PSE. The MAC Project Grant of $3600 will fund a three week visual artist residency. The MAC Mini-Grant will fund a presentation by the MS Puppet Theatre integrating music and literacy. All students at PSE will benefit from these artist visits.
"Through last year's grant we started a mural in which every child helped to create," Germany said. "Being able to bring back an artist in residence this year is a thrill in that it will ensure that our mural is completed! The power of the arts, through this grant, is helping to make a difference for our students!"
The MAC is a state agency serving the residents of the state by providing grants that support programs to enhance communities; assist artists and arts organizations; promote the arts in education and celebrate MS cultural heritage. The agency serves as an active supporter and promoter of the arts in community life and in arts education.
For more information about the Mississippi Arts Commission, please contact Susan Dobbs at 601-359-6031 or sdobbs@arts.state.ms.us.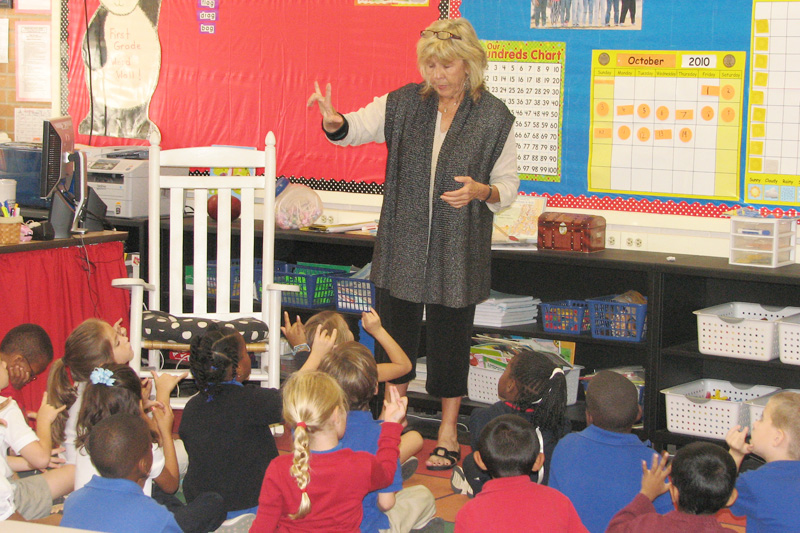 Kathryn Lewis, art educator, works with Poplar Springs Elementary first grade students (2010-2011) integrating drama, visual art, social studies and literacy.