« Back to news list
Gifted Program at Poplar Springs Elementary Hosted Parent Lunch
Poplar Springs Elementary School's gifted teachers recently hosted a lunch for the parents and students in the gifted program. The parents were able to come into the classrooms to see what the children have been working on so far this year including artwork, power point presentations, and writing. The parents were also able learn about the objectives and projects the gifted program will cover throughout the year. Some of these projects include shadowing a community leader to learn more about what they do for our community; mentor programs; and community service projects.
The Meridian Public School District gifted program is comprised of two different groups- ArtQuest and Explore. ArtQuest serves the artistically gifted students while Explore is specifically designed to meet the unique needs of students that are intellectually gifted. The gifted program teaches thinking skills, creative thinking skills, group dynamic skills, research skills, and life skills. Parents receive a Progress Report every nine weeks based on these objectives.
MPSD and the gifted program strive to establish on-going parent involvement, and this event will be the first of many ways these parents can be involved this year.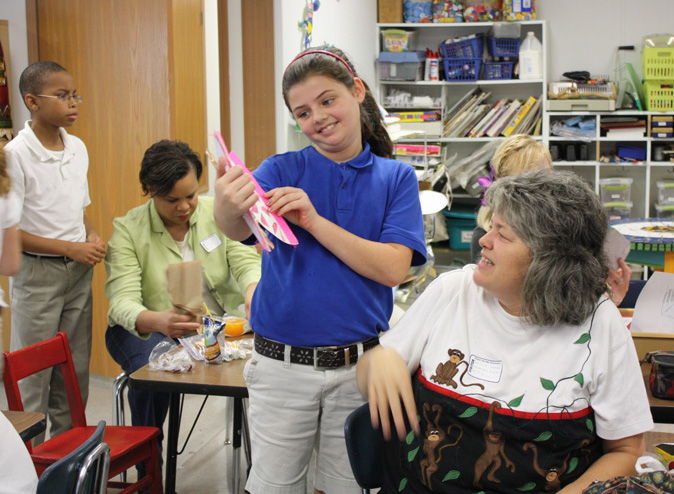 ArtQuest students pictured: Jordan Cole (far left) shows his work to his mother, Angela Bell; Reagan Mathis (middle) shows her creation to her grandmother, Vicki Warren.