« Back to news list
Carver Middle School-Reading, Reading, and more Reading!
Carver Middle School set a big goal at the beginning of the school year to encourage students to read more. The goal was to reach 15,000 Accelerated Reader points. Through the AR program, students can check out books in the library, read them, take a computerized test to gauge reading comprehension, and earn points according to their score on the test and reading level of the book. On average, a book is worth between 1 to 10 points.
So, what is the incentive to read? Students got to choose what their reward would be if they reached the goal, and they chose for the Principal, Tiffany Plott, to die her hair a bright color for a day. The top ten readers will get to choose the color. Plott is getting the dye ready since the school is already at 11,900 points!
Eighth grader, Alishia Armstrong, is playing a huge role in helping the school reach their goal. Armstrong has read 182 books since the beginning of school in August! Yes, 182 books! She is also answering 90.1 percent of the questions on the tests correctly. So far, she has earned a total of 1,012 AR points.
Congratulations to Carver Middle School and Alishia Armstrong on your hard work!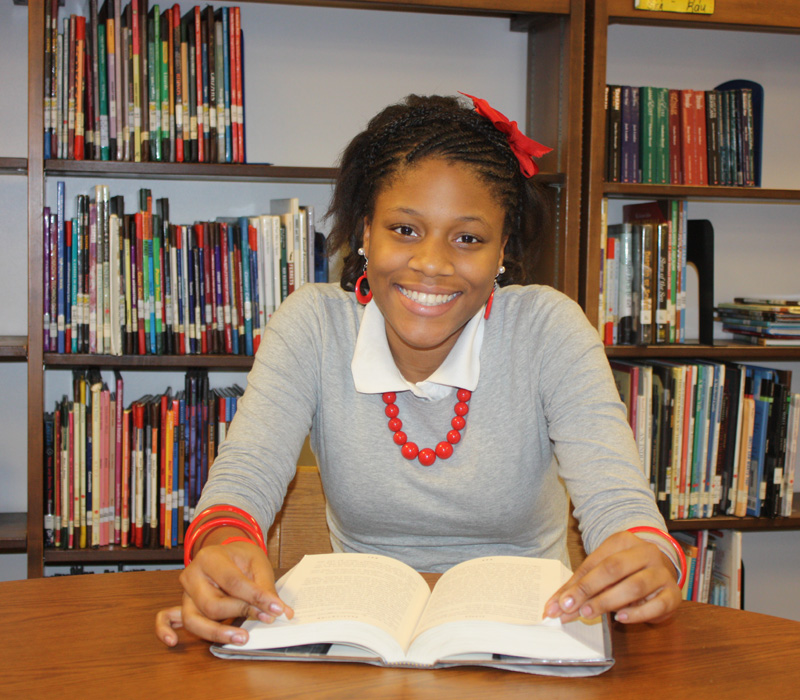 Alishia Armstrong reading in the school library.