« Back to news list
2012 Teacher of the Year
Jennifer DuPont, third grade math and science teacher at Poplar Springs Elementary, will represent the Meridian Public School District as 2012 Teacher of the Year.
With over 14 years of teaching experience, DuPont was selected based on her outstanding efforts in the classroom. Her students consistently score "Star" status on the MCT2 (state test) given each year in May. DuPont serves as a "Model Classroom Teacher" for her school, mentors new teachers, and presents her strategies for success at conferences.
DuPont will also represent MPSD in the State Teacher of the Year program hosted by the Teacher Center at the Mississippi Department of Education.
Click here to read the full story from the Meridian Star.
Each school in the District also chooses a Teacher of the Year:
Crestwood Elementary: Shevondra Clayton
T.J. Harris Elementary: Carla Desmond
Oakland Heights Elementary: Elise Dickerson
Parkview Elementary: Kirby Simmons
Poplar Springs Elementary: Jennifer DuPont
West Hills Elementary: Kathy Scott
Carver Middle: Vickie Moseley
Magnolia Middle: Robin Hall
Northwest Middle: Jason Kidd
Meridian High: Donna Smith
Ross Collins: Laurel Rigdon
Congratulations to these teachers on their outstanding accomplishments and this huge honor!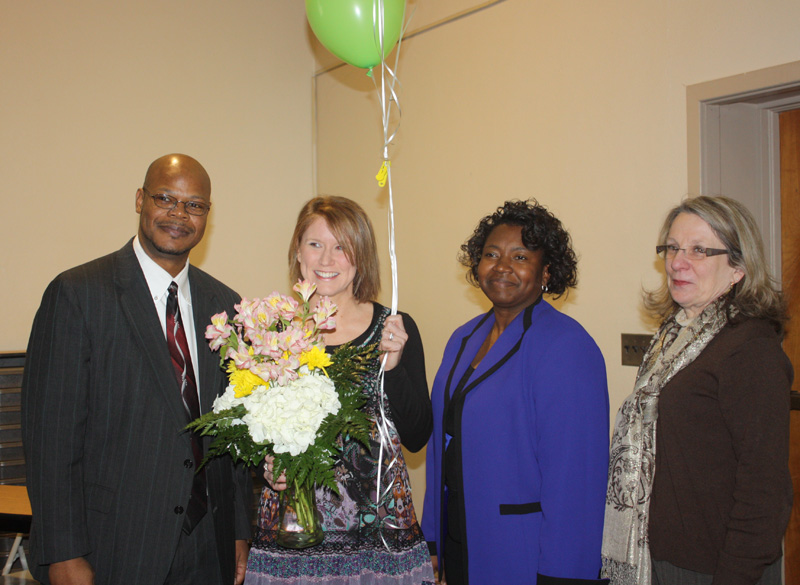 Pictured left to right: Superintendent Dr. Alvin Taylor, MPSD Teacher of the Year Jennifer DuPont, Assistant Superintendent Amy Carter, and Assistant Superintendent Robin Miles