« Back to news list
MHS Choirs Ranked 'Superior'
The Meridian High School Concert Choir,Treble Choir and Men's Choir received all 'Superiors' at the annual District V Choral Festival held at William Carey University, February 28, 2012. Superior is the top attainable rating.
Categories included Performance and Sight-reading. The Choirs' repertoire included, "Adoramus Te" by Jacques Clement, "Two Prayers of Blessing" by Benjamin Harlan, "In Time of Silver Rain" by Victor C. Johnson, Arise, My Love by Laura Farnell, "My Heart's in the Highlands" by Victor C. Johnson, and "Et in Terra Pax" by Mary Lynn Lightfoot.
The Choir is now eligible to participate in the State Choral Festival to be held the last week of March at Pearl High School.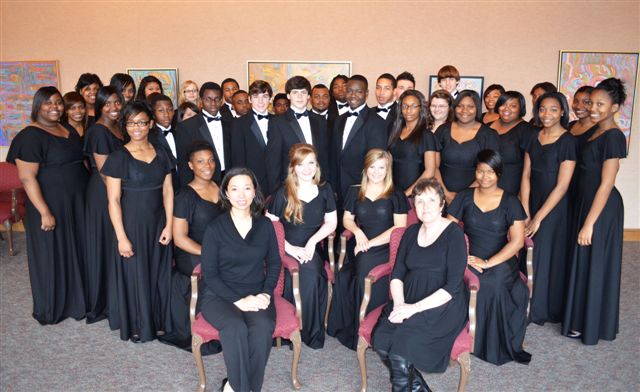 Pictured left to right:
Seated: Jennifer Davis, assistant director, Penny McLemore, director
Seated 2nd Row: Jasmine Lawson, Erin Beaudoin, Laura Huff, Monica Monroe
Standing 3rd Row: Anastasia Bryant, Alex Ricks, Dalvin Burge, Tanner Goldman, Austin Culpepper, Shakari McDuffie, Ashlee Dove, Keandria Gray, Keyana Hudson, Nikki Bennamon.
Standing 4th Row: Laquanda Harvey, Marai Kaneshi, Fabian Mason, Antonio Hill, Tommie Brown, William Griffin, Hannah Withers, Kamiyah Jones, Kyshari Dubose.
Standing 5th Row: Labresha Ramsey, Querida Williams, Aleah Coleman, Jasmine Williams, Elvia Devora, Kristin Preston, Andro Young, Keith Hudson, Garrett Minta, Will Harrison, C'Kenya Bell, Lakeasha Heidelberg