« Back to news list
2012-13 MHS Varsity Cheerleading Squad
Meridian High School held Cheerleading Tryouts on Thursday, March 8, 2012. The Tryouts consisted of judging in the following categories: jumps, tumble, dance, cheer, and fight song.
The function of the squad is to support various athletic programs at MHS as well as to participate in the statewide cheerleading competition sponsored by the Mississippi High School Activities Association. Activities of the squad include planning and performing at pep rallies to promote school spirit, cheering at football and basketball games, holding children's clinics in the fall, planning and holding pep rallies for various elementary and middle schools of the district, as well as many community activities.
The new 14-member squad will attend Cheerleading Camp at the University of Southern Mississippi in June.
Congratulations to the new squad members!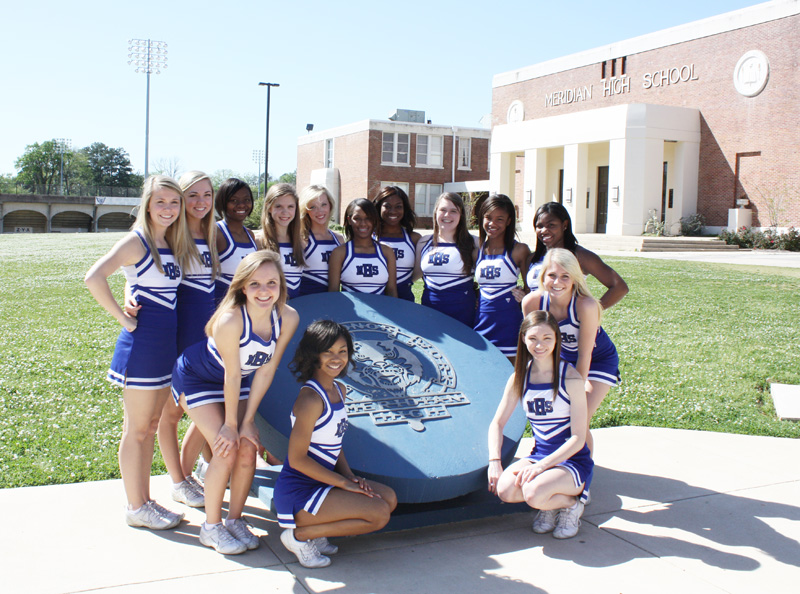 The 2012-13 Meridian High School Varsity Cheerleaders (from left to right): Katie Glenn, Margaret Griffin, Ashleyross Chisolm, Claire McCraw, Raven Roberts, Alex Hicks, Holly Howard, LaTrecia Gamble, Tykia Watts, Katie Bruister, Angel Spencer, Aisha Robertson, Kinsey Thornton, and Lauren Gaddie.