« Back to news list
Carver Students Donate to Care Lodge
Students at Carver Middle School were able to see their hard work pay off today as they donated two van loads of needed items to the Care Lodge.

Community Coordinator for the Care Lodge, Diane Mills, said, "The generous support Care Lodge receives from our community allows us to offer hope to victims of domestic violence and assist them in starting new lives free from abuse."
The school's teacher advisory program chose to raise money and supplies for the local domestic violence shelter as their service-learning project. Since supplies for young children are of great need, the students have been working diligently to collect a crib, high chair, car seat, jumper, clothes, diapers, wipes, and much more to donate to the organization.
"We truly appreciate the students at Carver Middle School for their caring spirits and hard work organizing such an amazing donation drive," said Mills.
The students even involved their parents, churches, and friends in their fundraising efforts. They also held a car wash last weekend to raise funds for the Care Lodge.
Carver Principal Tiffany Plott said, "I am very proud of the amount of student participation that we had in this community service project. We want to teach the students, not just about academics, but how to be productive and caring citizens."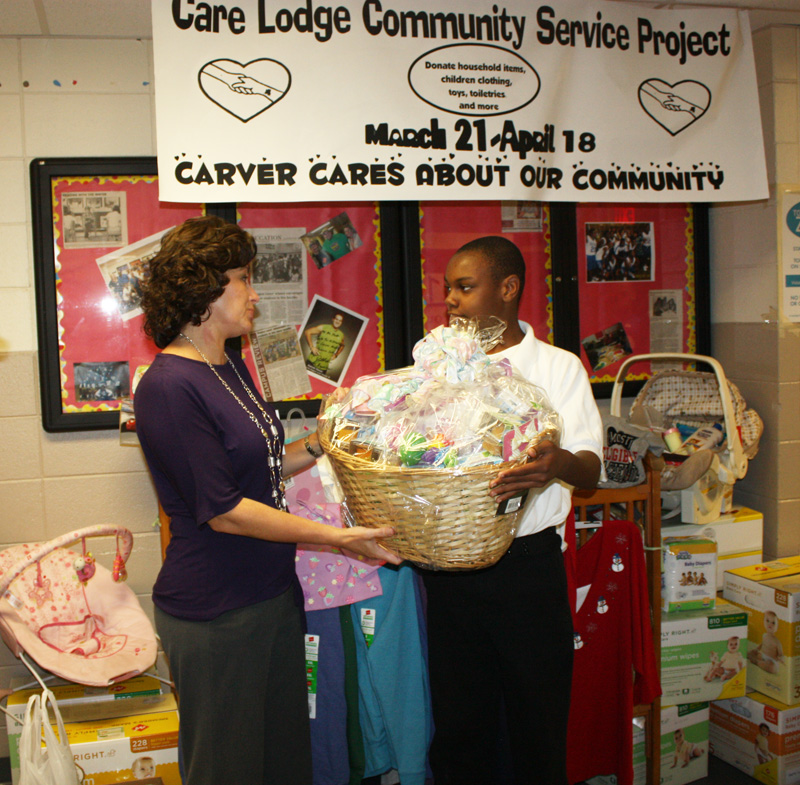 Carver Middle School sixth grader, Elijh Cofield (right), presents a basket of baby items donated by his mother, Tatashia Randle, to Care Lodge Community Coordinator Diane Mills (left).