« Back to news list
Meridian High School Senior Awards Night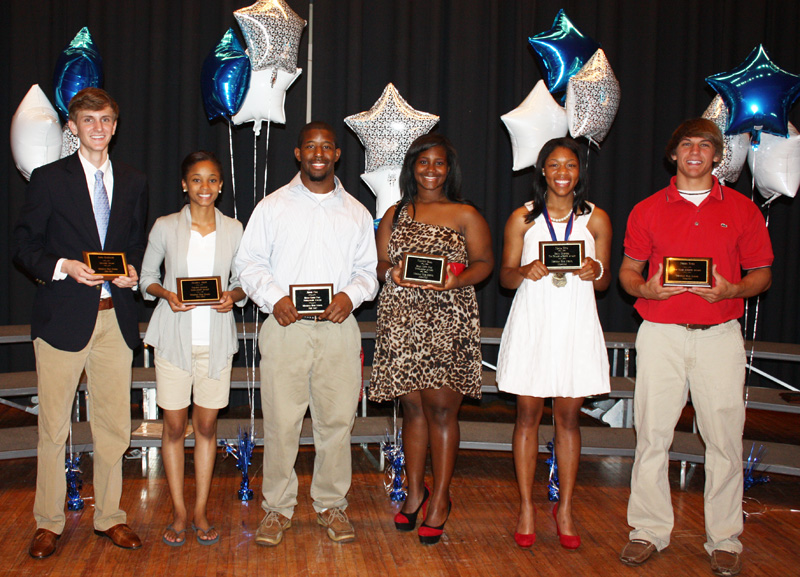 Star Student - Daniel May
Star Teacher - Lynn May
In 1965 the Mississippi Economic Council instituted a statewide program to recognize the importance of scholastic achievement, encourage greater effort by Mississippi students, and honor the teaching profession. This is called the STAR (Student-Teacher Achievement Recognition) Award.

The Star student is selected on the basis of ACT score and scholastic average. The Star student then selects the teacher who has made a significant contribution to his or her scholastic achievement.
Daniel scored an impressive 33 on the ACT and is ranked at the top of his class. Daniel's honors and activities include: National Merit Scholar, AP Scholar with Honor, National Honor Society, Eagle Scout, MS Governor's School Scholar, HOBY Ambassador, Leadership Lauderdale Youth; a member and captain of MHS Academic Team, MHS Tennis team and vice president of MHS Art Club. Daniel is a member of St. Patrick Catholic Church. He plans to attend Swarthmore College and purse a degree in economics.
As Star Student, Daniel chose the teacher that has had the most impact on his educational career. Daniel stated, "there have been many teachers to significantly impact my life. However, the teacher I feel had the most significant impact is my second grade teacher who I know as 'Mom'. Mrs. Lynn May has been with me every step of the way from first teaching me to read to now making my coffee in the morning. It is for all these reasons I selected her as my STAR teacher." Mrs. May taught for 16 years in Louisiana and Mississippi. She received her B. S. degree from University of Southern MS and Masters from University of Louisiana.
---
National Merit Scholar
Daniel May
From approximately 1.5 million students who entered the 2012 National Merit Scholarship Program, only about 16,000 were named semifinalists. In order to advance in the competition and be considered for a Merit Scholarship award, a semifinalist had to become a finalist by fulfilling several requirements that included submitting a detailed scholarship application and presenting a record of high academic performance. Daniel May was selected as the winner of a National Merit $2500 Scholarship.
---
MHS TOP TEN
Student selection is based on cumulative GPA from 8th grade through the first semester of 12th grade. The 2012 TOP TEN, in alphabetical order, are:
Bishop, Evan

Both, Pieter

Coleman, KaShyra

Evans, Kelly

King, Maya

Langston, Alexis

Lewis, Aujarimere

May, Daniel

Price, Christopher

Scruggs, Brooke
---
GOOD SAMARITAN SERVICE AWARD
National Honor Society

This year the recipient of the Good Samaritan award collected over $350 for Love's Kitchen with their turkey feather collection at Thanksgiving. They participated in "Have a Heart" fundraiser in February raising more than $180 for the American Cancer Society. Personal items were collected for a local nursing home. They also participated in the MHS Homecoming Parade, and have served as hostesses for different programs throughout the year at MHS. The club is sponsored by Ms. Shauna Waters.
---
I

. A. Rosenbaum Scholarship


Jeremiah Colwell
This award is presented to a graduating senior who exhibits a high degree of leadership qualities. Excellence in scholarship is also considered, as is participating in athletics or extracurricular activities. Recognition as a leader by fellow students is carefully weighed, but none of these is the sole determining factor. It is also the intention of the award that personal integrity and all-around citizenship be carefully considered in awarding the benefits of this trust. ($3,000)
---
Meyer Davidson Leadership Award
Pieter Both
This award is presented to a senior who exhibits the qualities of leadership. Personal integrity, all-around citizenship, and acknowledgement of leadership abilities by fellow students are standards of selection. Excellence in scholarship and participation in extracurricular activities are also considered. ($1500)
---
Lt. Sandra King Young, Ph.D. Memorial Scholarship
Maya King
This scholarship is presented to a member of the girls' basketball team. Dr. Young was a 1984 graduate of Meridian High and was a girls' basketball starter in 1983 and 1984. After graduating from MHS in 1984, Dr. Young went on to play for four years at the University of Alabama, Birmingham. After graduating from UAB, she joined the U. S. Navy and played fir years for the All Forces Team. She received her Masters' Degree and went on to the Naval Acadamy as a Commissioned Officer and received her Ph.D. in psychology. This memberal scholarship is funded by Dr. Young's husband, Sandy Young, (who also graduated from MHS in 1984), and her parents, Zeno and Mary Alice King through the Community Foundation of East Mississippi. ($1000)
---
Charles and Doretha Young Scholarships
Shabria Amos
Toniziun Ball
This scholarship(s) is awarded to students who plan to attend a Historically Black College or University. Scholarship recipients were chosen based on cumulative GPA. Selection process also included an essay on the topic of "How would attending a HBCU affect your life socially, economically and educationally." ($1000 each)
---
Betty Kimbrell Top Female Athletic Award
Maya King

This award is presented by family and friends to a female athlete who strongly exemplifies the spirit of Betty Kimbrell. Mrs. Kimbrell was a longtime Meridian High School employee who served as activities director, counselor, and student council advisor for many years. She loved MHS students and influenced many students who are in influential positions around the state and country today.
---
Brian Keith Cole Scholarship Award
Toniziun Ball
Jibril Cox
These awards are presented to a graduating male and female student athlete who excel in athletics and exhibit excellent leadership qualities. The recipients of this award should display a competitive and tenacious spirit for success on the athletic field. This award is designed to assist the recipients in continuing their education upon graduation. Brian Keith Cole was a 1997 graduate of MHS and played baseball with the New York Mets until his death in 2001.
---
Melinda Weathers Award
Shelton Cole
This award is presented to an all-around student who excels in academics and extracurricular activities with a special emphasis on athletics. The recipient should exhibit leadership skills and a positive attitude.
---
Jennie Ruth Crump Award
Denisha Crowell
This award is presented to a senior girl who exhibits the qualities of scholarship, leadership, and good citizenship. Special consideration is given to students who plan to enter the field of education.
---
Class of 1968 Virginia Graham
Shabria Amos
The class of 1968 and friends of the late Mrs. Virginia Graham, a beloved teacher and counselor on the MHS faculty for many years, established a trust fund providing a scholarship to encourage worthy and promising students to continue their education. Selection is based on scholarship, academic promise, leadership and service.
---
Top Male Athlete Award
Pieter Both

This year's award carries with a $250 scholarship. This donation has been made by Reverend Wayne and Lita Williams, who are graduates of MHS, 1978. Reverend Williams was a member of the basketball state championship in 1978 and wanted to commemorate the MHS football team's accomplishing of the 2008 State Championship. He hopes this scholarship is used to encourage a young student athlete to pursue his dream on the college level.
---
Larry Scott Memorial Award
Lakendrick Sims
This award was established by teammates of Larry Scott after he lost his battle with cancer. Larry Scott was a 1975 graduate of Meridian High School and was an outstanding basketball player.
---
Eris D. Jordan Spirit of Excellence
Andrea Palmer
The MHS Class of 2010 has established an award in honor of Ms. Eris Jordan, who served as a counselor at MHS for over 25 years. The Class of 2010 was her last graduating class of Meridian High. This award is presented to a young layd who exemplifes the qualities that Ms. Jordan possesses. These qualities include: strong leadership skills, humility, well-rounded, charm, outstanding personality and good citizenship. She should also be active in school and community activities.


---
Academic Team

Senior Members
Academic Team
Pieter Both
Daniel May - Team Captain
Manpreet Singh
Academic Awards

Social Studies (AP Government)

Daniel May

Physical Science

Evan Bishop

Biological Sciences

Daniel May

Mathematics

Daniel May

Maude Smith Excellence in English

Daniel May

Spanish

Shelton Cole

Sarah Eykelboom French Award

Lesslie Evans

Choral Music

Shakari McDuffie
LaQuandra Harvey

Theory and Senior Piano

Gabriel Spells

Business/Technology

Wal'Darius Silliman

Outstanding Video Programming

Stevonda Goodwin

Visual Arts Awards

Art I

Andesia Brown

Art II

Lakia Collins

Drawing

Anna Kanellos

AP Art History

Daniel May

AP Studio Art

Andy Currie

Ceramics

Paige Bajus
Performance & Service Awards
Outstanding Female Reverie Staff Member
Outstanding Male Reverie Staff Member
T'Keyah Clark
Pierre Dunigan

Student Council President

Kelly Evans

Linda Smith Cheerleading Award

Brooke Scruggs

Spirit of Prom Award

Brittany Davis

Mr. and Miss MHS
Shabria Amos
Pieter Both
Meridian High Service Awards
Service Awards are presented to students who have consistently shown a desire to be helpful in various areas of the school. Names are recommended from various sources and the actions that deserve the aware are as versatile as the individual.


Shanderian Bell

Kelly Evans

Rebekah Fields

Daniel May

Shakari McDuffie

Ashley Onyia

Andrea Palmer

Rondejhana Rush

Brooke Scruggs

Manpreet Singh

Aubrey Williams

Charles Williams

Mariah Williams
Principal's Honor Medals
Principal's medals are presented to seniors who have displayed excellent in achievement and who have been afforded recognition of service by their fellow students and teachers. Teachers and awards committee members may recommend students, but the final decision is the Principal's.


Pieter Both

Jeremiah Colwell

Kelly Evans

Rebekah Fields

Maya King

Alexis Langston

Christian Jackson

Santana Jenkins

Daniel May

Shakari McDuffie

Ashley Onyia

Christopher Price

Yvonne Zuchowski
Academic Letters
Academic Letters are awarded to students who have achieved academic excellence. In order to receive an Academic Letter, a student must have earned a cumulative grade point average of 3.75 or above on a 4.0 or higher scale.

Third Year Year Academic Letters

Shabria Amos

Paige Bajus

Evan Bishop

Pieter Both

T'Keyah Clark

KaShyra Coleman

Jeremiah Colwell

Kelly Evans

Rebekah Fields

Allen Goldman

Emma Goodwin

Aliesha Houston

Maya King

Alexis Langston

Aujarimere Lewis

Daniel May

Christian Moss

Andrea Palmer

Kadesia Parker

Christopher Price

Brooke Scruggs

Manpreet Singh

Gabriel Spells

Aubrey Williams

LaQuandria Williams

Yvonne Zuchowski

Second Year Academic Letters
National Honor Society

Shabria Amos

Paige Bajus

Shanderian Bell

Evan Bishop

Dawntricia Clark

KaShyra Coleman

Tiffany Collins

Kelly Evans

Allen Goldman

Emma Goodwin

Jessica Hopson

Aliesha Houston

Maya King

Aujarimere Lewis

Daniel May

Andrea Palmer

Kadesia Parker

Christopher Price

Brooke Scruggs

Gabriel Spells

Ja'Kerria Wilson

Yvonne Zuchowski
Presidental Academic Excellence

Javonte Adams

Shabria Amos

Paige Bajus

Toniziun Ball

Angelique Barfield

Spence Baucum

Shanderian Bell

Evan Bishop

Pieter Both

Christina Brookins

Justin Brown

Derrick Brunson

Dawntricia Clark

T'Keyah Clark

Shakerria Cole

Shelton Cole

KaShyra Coleman

Tiffany Collins

Jeremiah Colwell

Jibril Cox

Denisha Crowell

Andrew Currie

Brittney Davis

Shaniece Davis

Jessica Diana DeLeon

Justice Dean

Raven Dubose

Pierre Dunigan

Tyler Edwards

Kelly Evans

Lesslie Evans

Rebekah Fields

Christopher Ford

Christina Gaddis

Syndarryl Gause

Allen Goleman

Emma Goodwin

Stevonda Goodwin

Deandria Gowdy

Elizabeth Grace

Emmanuel Grand

Mitchell Gressett

Tobias Griffin

Tianna Hampton

Felicia Hayes

Andrea Henderson

Kwanzaa Hill

Jessica Hopson

Aliesha Houston

David Hughes

Ty Hunter

Melissa Jack

Christian Jackson

Santana Jenkins

Terrell Johnson

Anna Kenellos

Mirai Kaneshi

Maya King

Alexis Langston

Breosha Lanier

Jasmine Lawson

Aujarimere Lewis

Jared Lewis

Daveyona Loyd

Diamond Manuel

Daniel May

Fayla McCoy

K'Shaytria McDonald

Shakari McDuffie

Jacinta Mesadieu

Phillip Mosley

Tashia Mosley

Christian Moss

LaBresha Naylor

Cabresha Odoms

Ashley Onyia

Andrea Palmer

Kadesia Parker

Jadarius Patton

Ashley Peden

Jamal Phillips

Faith Pigford

Cambrionna Pratt

Christopher Price

Nia Price

Andre Razey

Ashley Reynolds

Ryan Sanders

Brooke Scruggs

Wal'Darius Silliman

Cohlby Sims

Manpreet Singh

Katherine Spaulding

Gabriel Spells

Tony Stanton

Laneetra Thames

Kala Thomas

Mariah Walters

Merrick Watkins

Miller Watkins

Justin Whitsett

Eumika Wiggins

Aubrey Williams

Charles Williams

LaQuandria Williams

Taylor Williams

Ja'Kerria Wilson

Yvonne Zuchowski
Electricity

Demondre Cole

Culinary Arts

Ashley Peden

Welding

Tumara Larkin

Teacher Academy

Jasmine McGhee

Building Trades

Anthony Walker

Drafting

Phillip Mosley

Career Pathway

Christina Gaddis
Aubrey Williams
Shanderian Bell