« Back to news list
State Senate Issues Proclamation to MHS Academic Team
Senator Videt Carmichael, a member of the State of Mississippi Senate, was on campus Wednesday, May 16, to make a very special presentation to the championship Academic Team.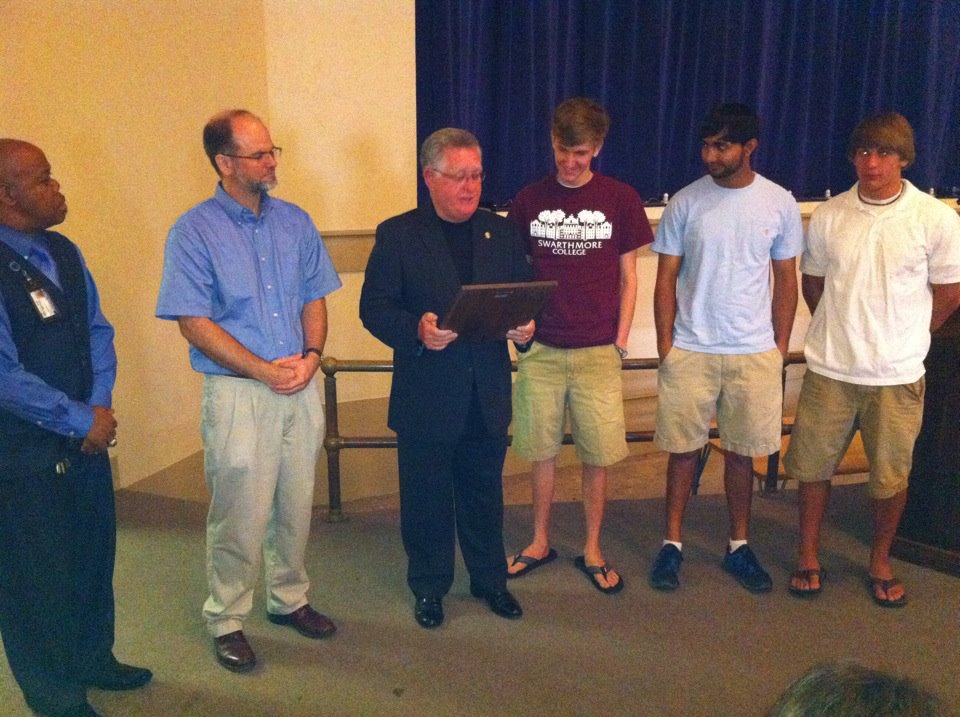 He presented the team and its coach, Michael Clymer, with a plaque from the Mississippi Senate representing a proclamation passed on the floor of the Senate to salute the Academic Team for its first place Championship at Regional Competition.
The plaque reads:
State of Mississippi
The Lieutenant Governor of the State of Mississippi and
Senator Videt Carmichael
RECOGNIZE AND SALUTE THE
MERIDIAN HIGH SCHOOL ACADEMIC TEAM
FOR ITS FIRT PLACE CHAMPIONSHIP AT REGIONAL COMPETITION
WHEREAS, Meridian High School is celebrating its newest Championship Team, the Meridian High School Academic Team; and
WHEREAS, the Meridian High School Academic Team participates in competitions across the state to promote the development of a broad spectrum of knowledge in language arts, fine arts, mathematics, science and history. Often the team members compete for scholarships; and
WHEREAS, on April 30, 2012, Meridian High School Academic Team won a title at St. Andrews High School in Jackson that qualifies them for national competetion, but it wasn't easy; and
WHEREAS, their final match-up was tied and Meridian High School had to win it in overtime; and
WHEREAS, the Academic Team for 2011-2012: Seniors Piter Both, Daniel May and Manpreet Singh; Juniors: Kajol Champaneri, Kelly Offenberger, Emma Reeves and Joniqua Ward; and Sophomores: Andrew Bator, Christopher Cross, Scott Ellis, Pearson Kelly and John Price. The Coach of the Academic Team is Mike Clymer; and
WHEREAS, it is with great pride that we acknolwedge this Championship Team which has brought honor to its school and community:
NOW, THEREFORE, THE LIEUTENANT GOVERNOR OF THE STATE OF MISSISSIPI, AND SENATOR VIDET CARMICHAEL, on behalf of the Mississippi Senate, do hereby recognize and salute the Meridian High School Academic Team for its First Place Championship at regional competition, and we extend the best wishes of the Mississippi Senate to the students, parents and sponsors of this team for future successes.
Signed this 3rd day of May, 2012.