« Back to news list
MHS Band Earns All Superior Marks!
The Meridian High School marching band recently earned all Superior Ratings at the MHSAA Region III Festival.
The MHS Band, known as the "Greatest Band in All the Land," received Superior ratings in Percussion, Color Guard, Drum Major, and Band. They earned the impressive score of 93.3 with the highest score being 98.
The Wildcat Band competed with more than 30 bands from our region for State Marching Evaluations.
The Festival was hosted by the MHS Band Boosters and held on October 13, 2012, at East Mississippi Community College.
Congratulations to the MHS Wildcat Band!!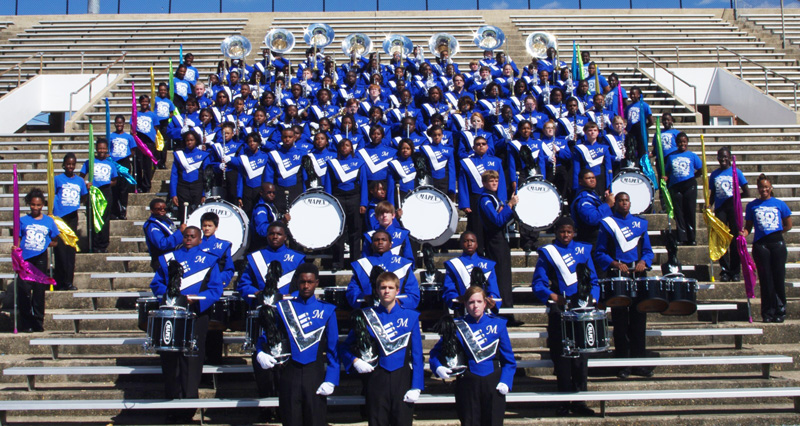 2012-13 MHS Band Members:
FLUTES
Sims, Keyairra
Williams, Kayla
Martin, Shelby
Corey, Amanda
Burnett, Ebonie
Miller, Laprisha
Boswell, Brittney
Lynch, Justice
CLARINET
Reed, Ashley
Betts, Jahkerriana
Lloyd, Antoinette
Hill, Tanisha
Sillimon, Courtney
Cockrell, Maggie
Nabors, Kaitlin
Dancy, Keeandra
Fikes, Myi
Smith, Demestrius
Lovette, Victoria
Hood, Andera
Kennedy, Shaone
Ramsey, Labresha
Isaac, Britnee
Young, Brooklyn
Turner, Karlencia
A. SAXOPHONE
Hamilton, Mavrick
Drake, Shaciarra
Alford, Jacoby
Wilson, Takisa
Goree, Ebony
Young,Tieara
Thames, Ziquieshia
Moss, Tyra
Young, Martha
Williams, Troy
Howell, Rodney
T.SAXOPHONE
Griffin, Madeline
Wright, Aeneas
Watts, Tykia
HORN/MELLO
Cross, Chris
Spivey, Chason
Fikes, Simone
Young, Megan
Scott, Kioesha
TRUMPET
Davis, John
Boyd, Jaylen
Altman, Tim
Troutman, William
Love, Malaesha
Goldman, John
White, Jordyn
Roberts, Kaylah
Hurns, Jordan
Pinion, Brinna
Martin, Tichinia
Garner, Quentashia
TROMBONE
Thomas, Louis
Brown, Jakari
Bihn, Josh
Zettler, Kaylee
Jones, Chicko
Mitchell, Tia
Brassfield, Jamarquise
Cole, Asante
Glass, Walisha
Rush, Oriuana
Miller, Tyiesha
Wilson, Jayla
BARITONE
Fera, Eric
Davis, Destin
Keeton, Clayton
Hall, Kiamber
TUBA
Thomas, Eriana
Harbin, Frankie
John Price
Mosley, Terry
Griffin, Edward
Williams, Kaleb
Turner, Kristian
Pritchard, Barbara
Adams, Cameron
Breland, Nicholas
COLORGUARD
Emmerson, Mayah
Alexander, Ereia
Key, Jasmine
Hall, Anquanizia
Williams, Zanquana
Adams, Deja
Cole, Latondra
Beason, Kawanee
Boyd, Allison
Berry, Kierra
Stewart, Chelsi
Isaac, Briana
Boutwell, Autumn
Tubbs, Kailah
Christian, Makala
Martin, Laquondra
Hill, Heather
DRUM MAJORS
Taylor Lindemann
Brown, Scotty
Acord, Ali
PERCUSSION
Drew Johnson
Joshua Davis
Josh Reed
Zach Corey
Vincent Kidd
Cameron Moore
Matt Fera
Noah Boudreau
Joshua Leggett
Charles Reed
Courtland Wright
Treasure Nichols
Infiniti Stribling
Pearson Kelly
Anna Taylor
18 Edwin Trejo
Diana Hopson
Amber Reed
Miranda Williams
Portis, Santoreshea
Burton, Isaac