« Back to news list
MHS Choir to Perform at Carnegie Hall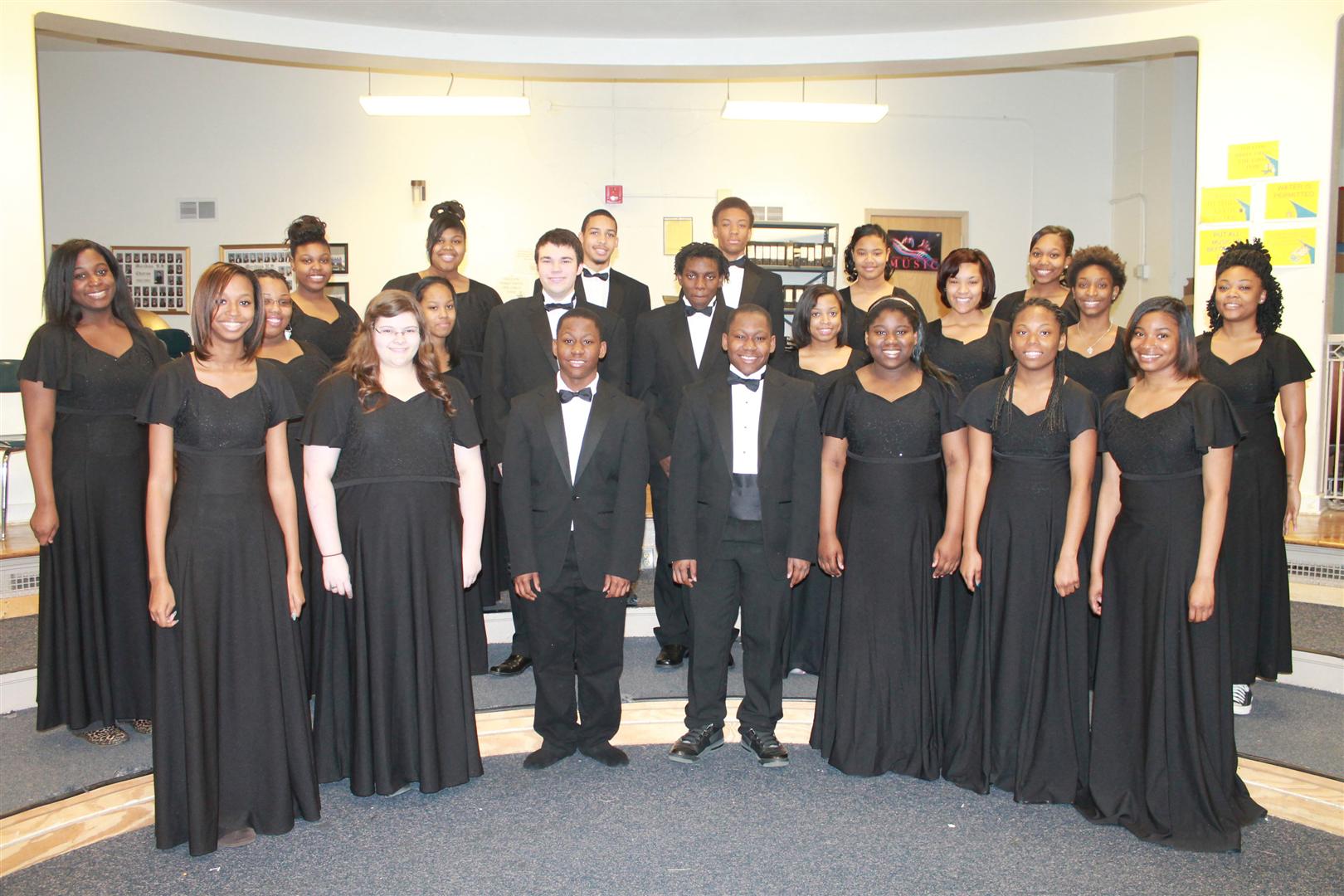 Meridian High School Concert Choir pictured left to right -
1st row: Jasmine Williams, Hannah Withers, Alex Ricks, Artis Ricks, Angela Fowler, Kevona Evans, Kashari Dubose
2nd row: Timnisia Willis, Kayla Jones, Taleiah Jones, Garrett Minta, Dalvin Burge, Maliyah Alford, Kia Davis, Ashlee Dove, C'Kenya Bell
3rd row: Toniquea Penry, Aleah Coleman,William Griffin, Corey Cole, Alexis Dubosek Nikki Benamon
The Meridian High School Choir, under the director of Penny McLemore, is one of only two choirs from Mississippi invited to participate in the New York Premiere performance of Dan Forrest's Requiem for the Living on the Distinguished Concerts International New York (DCINY) Concert Series at Carnegie Hall in New York City.
"The Meridian High School Choir received this invitation because of the quality and high level of musicianship demonstrated by the singers. It is quite an honor just to be invited to perform in New York. These wonderful musicians not only represent a high quality of music and education, but they also become ambassadors for the entire community. This is an event of extreme pride for everybody and deserving of the community's recognition and support," said Dr. Jonathan Griffith, Artistic Director and Principal Conductor for DCINY.
The performance will be held on Sunday, January 19, 2014 with 450 students from across the nation under the direction of Conductor Dr. James M. Meaders, Professor and Chair of the Department of Music and Director of Choral Activities at Mississippi College. The singers will spend five days and four nights in New York City in preparation for the concert.
"I am very excited and honored that our choir has been invited to participate in such a prestigious performance," said McLemore. "We will need the support of our entire community to make this trip become a reality."
The MHS Concert Choir also recently earned all "superior" ratings at the District Choral Festival held at William Carey University. Scoring for the festival is based on tone quality, rhythm, pitch, pronunciation and expression. The "superior" ratings earn the choir the opportunity to move on to State Choral Festival at Pearl High School in early April.
"We are thrilled that our students have the opportunity to perform at Carnegie Hall," said MHS Principal Victor Hubbard. "That goes to show that the students and faculty of MHS are of the highest caliber."
Due to registration fees, hotel stays, and distance of travel, this trip will cost students a large amount of money. The students and teachers will be doing several fundraisers over the next year to help with the cost, but if you would like more information or to help make this dream a reality for students, please contact Penny McLemore or Jennifer Davis at 601-484-4668.