« Back to news list
Carver Teacher Amanda Crowell Wins Golden Apple Award!
Meridian Star
April 21, 2013
Carver teacher brings science to life for students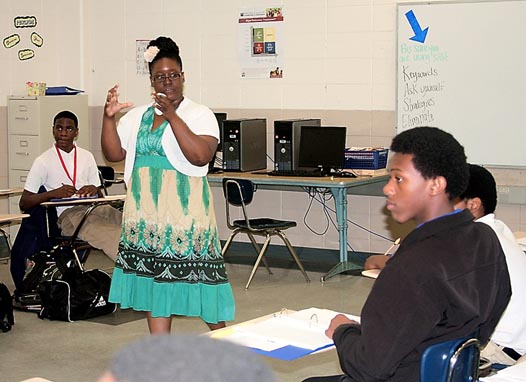 April's Golden Apple Teacher of the Month, 8th grade science teacher Amanda Crowell, works with her students at Carver Middle School. (Michael Stewart / The Meridian Star)
By Terri Ferguson Smith / tsmith@themeridianstar.com
The Meridian Star
MERIDIAN — Science is never boring in Amanda Crowell's eighth grade class at Carver Middle School in Meridian.

For four years, Crowell has been known to go to almost outrageous lengths to help her students understand science. This dedication is what earned her the April Golden Apple Teacher of the Month award.

Her principal, Tiffany Plott nominated her for the award.

"She uses some crazy tactics to get her kids to learn the material," Plott said. "She is always coming up with really cool ideas that relate to the kids' lives or that will motivate them and encourage them to be engaged in their learning."

Crowell is in her fourth year of teaching at Caver.

"She is a product of Carver Middle School, Meridian Public Schools, and the Boys and Girls Club here," Plott said. "That motivated me to want to show the kids here that if you work really hard — that somebody from the same school they go to, from the same Boys and Girls Club, who lives in the same neighborhood that they live in, can fulfill their dreams with hard work, dedication, and determination. Ms. Crowell is a great role model for these kids."

Golden Apple sponsors surprised Crowell in her classroom Tuesday when the group arrived unannounced. Asked what she thought when she saw all those strangers in her classroom, Crowell admitted it was a temporary cause for concern.

"I thought I was in trouble and I was thinking, whatever they think I did, I didn't do it," Crowell said. Soon her fears were gone.

"I feel great. I just feel honored and shocked," she said.

In nominating Crowell, her principal wrote that she is one of the most dedicated teachers she has ever met.

"She is such a positive role model and example for our students. It is very obvious after just a few minutes of talking with her students how she makes any subject they are learning fun and exciting," Plott said. "She is known for her crazy antics and outrageous techniques that she employs to get her students motivated and to help them to remember the information she teaches. One day she came to school with answers to questions pinned all over her clothes.

"She is constantly coming up with new and fun experiments to teach the students concepts while making it relevant to their lives. Her classes recently created a 'Carver Galaxy' in the lab to display all of their projects and work while studying Earth and Space Science."

Crowell believes the secret to good teaching is building strong relationships.

"My main focus with my children is not on what I teach, per se, but on the relationships I have with them because if I can be in a relationship with them, they'll listen to anything I say," Crowell said. "They'll believe anything that I tell them. The main thing I want them to believe is that I believe in them. If I believe in them, they are going to believe in themselves."

Crowell wanted to become a teacher from an early age.

"Working through Boys and Girls Club, and seeing the way I interacted with the staff there," she said, "I knew I wanted to do the same thing they were doing, which is to touch lives."

Getting ready for state assessment tests is a big challenge for an eighth grade teacher, she said, and dealing with different needs of students can also be challenging.

"They all have different personalities just like adults do," Crowell said. "They are going through the transition of moving into high school and making their own decisions, so it is tough for them. There are a lot more responsibilities as far as school work.

There's a lot of pressure so anything I can do to ease the pressure on them, then I'll do that."

One of her students, Alzono Brooks, said she is not an average teacher.

"She really involves us in what we are learning," Brooks said. "She breaks it down where we can understand it and she also adds fun to it."

Crowell said it's important that she helps students understand that they can succeed.

"I feel if I show them that I care about them enough, they are going to believe in themselves," Crowell said. "You are not going to leave my classroom at the end of the school year not believing that you can be successful. That's not going to happen."

Participating sponsors of the Golden Apple Award read nomination letters each month and make the selection. The winner gets a "Golden Apple" trophy and a voucher for $1,000 in school supplies, a $300 check and the chance to be named the Golden Apple Teacher of the Year in May. The winner also will have the opportunity to nominate a graduating senior for a scholarship.

To nominate a teacher, go to either meridianstar.com or wgbctv.com and click on the Golden Apple logo.

Nominations can be submitted by parents, faculty, or community members as well as past and present students. Candidates must be a current, full-time, faculty member in a public or private school system who are working within the following counties: in Mississippi — Lauderdale, Neshoba, Kemper, Clarke, or Newton counties. In Alabama — Choctaw and Sumter counties.

The nomination process consists of an essay of no more than 500 words detailing why the person should be considered for the Golden Apple Award.