« Back to news list
MPSD Names Administrator and Teachers of the Year

Victor Hubbard (left), MHS Principal, was named MPSD Administrator of the Year and Penny McLemore (right), MHS Choral Director was named MPSD Teacher of the Year by MPSD Superintendent Dr. Alvin Taylor (center).
Meridian Star
January 22, 2014
Educators recognized for outstanding performance
By Brian Livingston / blivingston@themeridianstar.com The Meridian Star
MERIDIAN — By Brian Livingston
blivingston@themeridianstar.com
Two educators at Meridian High School walked away with the Meridian Public School District's top honors Tuesday.
MHS Principal Victor Hubbard was named the school district's Administrator of the Year and Penny McLemore, the director of Choral Activities at the school, garnered the Teacher of the Year award.
Dr. Alvin Taylor, superintendent of the Meridian Public School District, presented Hubbard and McLemore with their awards in a surprise presentation inside the school.
"Mr. Hubbard took a school that was failing and turned it around into a success story," Taylor said. "And Mrs. McLemore symbolizes what a true teacher is by exhibiting the rare combination of loving her job and her students."
Hubbard, who has been principal at the school for four years, said the award is not his alone.
"My name might be on this but this is a team award as far as I'm concerned," Hubbard said. "This means a lot to me but it means more in the fact there are teachers and staff here who have all contributed greatly to the success at MHS. I can't do this alone so that tells you there were a lot of people who were also responsible for this."
McLemore, who was nominated for the award once before, said her win was a complete surprise.
"I love what I do," said McLemore, who said she has been working with the school district on and off for 21 years. "When the children make music it makes my heart soar. I love seeing the sense of accomplishment on their faces."
Hubbard said a driving force for him is a report from the Mississippi State Board of Education issued before he took over as principal that, in effect, determined that the school was out of control.
"I keep that report on my desk as a motivating factor," Hubbard said. "We still have work to do, such as improving the graduation rate here, but this award is proof we are moving in the right direction with the right kind of people."
Taylor pointed out that McLemore was a double winner Tuesday as she was also the Teacher of the Year for Meridian High School.
"She has had, and will continue to have, a huge impact in the lives of the students who come to Meridian High School," Taylor said.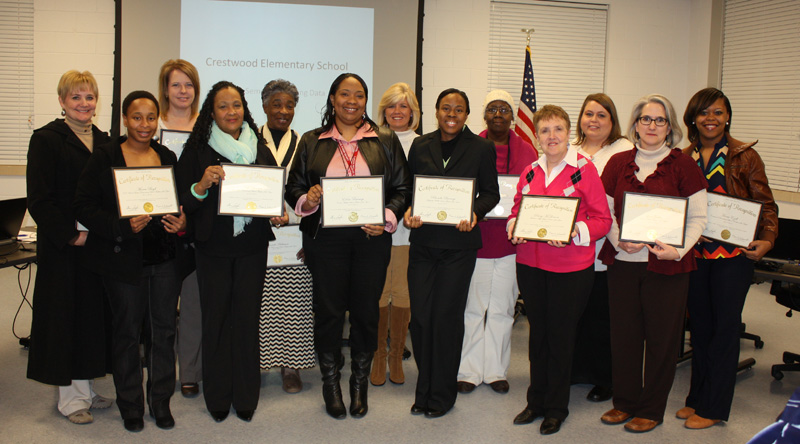 Other teachers who were recognized for their outstanding work in the Meridian Public School District that were named Teacher of the Year at their individual schools are: Kiera Ezell of Crestwood Elementary; Dorothy "Dottie" Rigdon of Oakland Heights Elementary; Cecelia Mosley of Parkview Elementary; Brook Gillette of Poplar Springs Elementary; Marcie Boyd of T.J. Harris Lower Elementary; Hannah Hickman of T. J. Harris Upper Elementary; Nell Barron of West Hills Elementary; Edna Burrage of Carver Middle; Rhonda Burrage of Magnolia Middle; Regina Herd of Northwest Middle; Leisa Shumaker of Ross Collins Career and Technical Center; and Lori Gatlin of Marion Park.