« Back to news list
2014 MPSD Parent of the Year - Dorothy Hull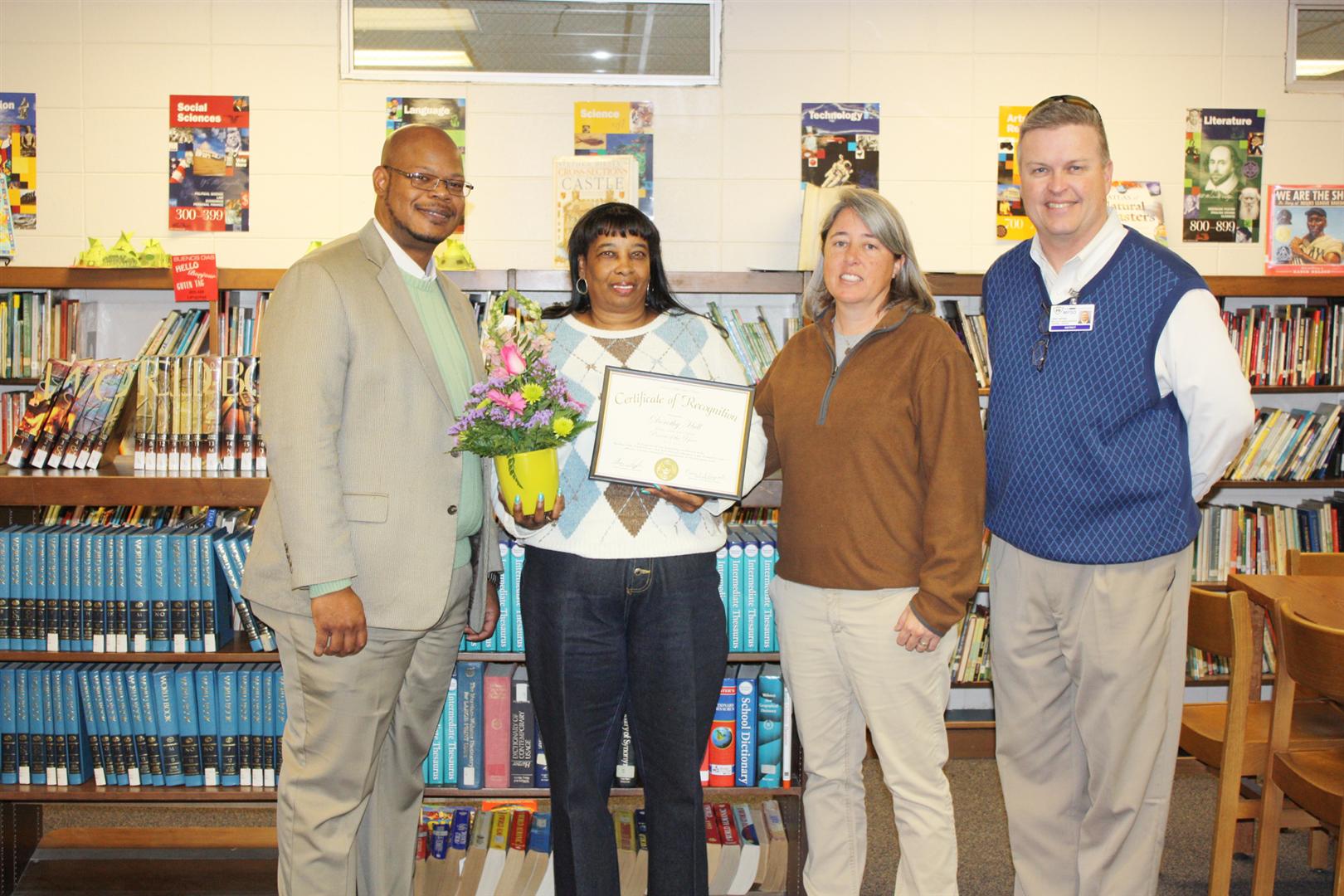 Pictured left to right: Dr. Alvin Taylor, MPSD Superintendent; Dorothy Hull, 2014 MPSD Parent of the Year; Tiffany Plott, Carver Middle School Principal; and Terry Moore, MPSD Human Resources Director.
Dorothy Hull, Carver Middle School Parent of the Year and Parent Teacher Organization (PTO) President, has been named the 2014 Parent of the Year for the Meridian Public School District.
"Mrs. Hull serves as a wonderful example of what parents that are involved in their child's education can accomplish," said MPSD Superintendent Dr. Alvin Taylor. "Her dedication, leadership, and hard work help to make not only Carver a better place but the District as a whole. We are so proud to have her represent the Meridian Public School District as Parent of the Year."
Under Hull's leadership, Carver Middle School has seen the PTO become much more active. She has been able to organize parent volunteers to hold fundraisers, work concession stands at home ball games, secure donations from community sponsors, and become more active in their child's school.
Through her tireless efforts, Carver has been able purchase a school mascot costume, build an awning in the back side of the cafeteria that allows students to exit during inclement weather safely, secure picnic tables for outside seating, provide teachers with lunch, snacks and gifts for Teacher Appreciation, and put plans in place for an additional awning to be built in the front of the school for students to have extra protection from the elements during arrival and dismissal times.
"Mrs. Hull was chosen as Carver's Parent of the Year because of her tremendous dedication to ensuring that our PTO is a vital part of contributing to the success of our students," said Carver Middle School Principal Tiffany Plott. "She can be found hosting fundraisers, working concession stands during ballgames, chaperoning school events, analyzing data and meeting with staff, and contributing to our school-wide planning efforts. She is a wonderful lady and a very important part of our Carver Family."
Congratulations to the following school's Parents of the Year:
Crestwood Elementary-Melvin and Latasha Kelly
Harris Lower Elementary– Cassandra Allen and Christina Bell
Harris Upper Elementary– Tonya Morris
Oakland Heights Elementary– Vivia Houston
Parkview Elementary– Beverly Joseph
Poplar Springs Elementary –Douglas Coleman
West Hills Elementary– Sholanda Lowe
Carver Middle- Dorothy Hull
Magnolia Middle – Kletina Hall
Northwest Middle– Liz Haynes
Meridian High School – Paige Corey