« Back to news list
National Art Honor Society Chapter Established at MHS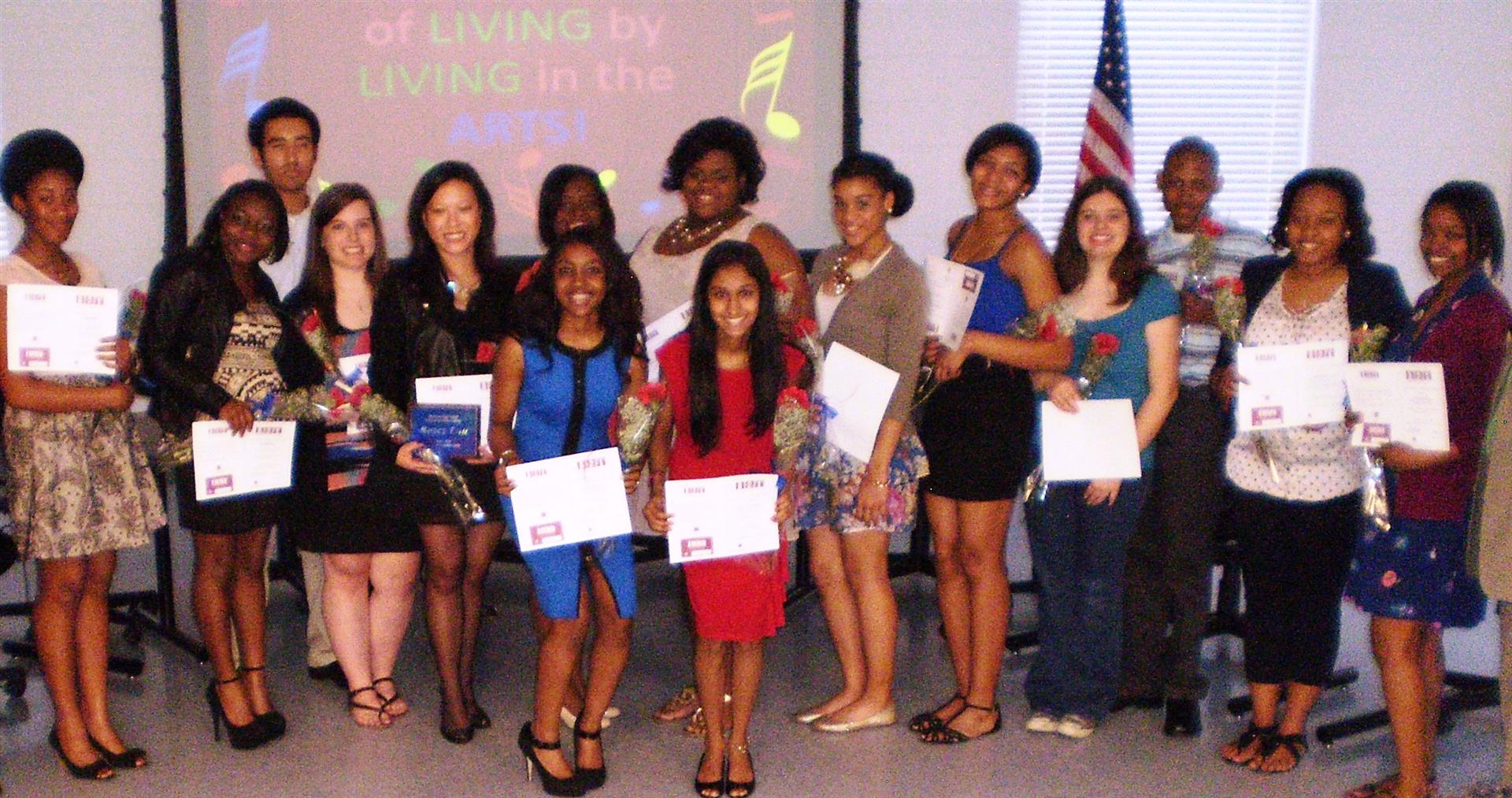 Meridian High School 2014 National Art Honor Society Inductees include: (back row – left to right) Somai Fikes, Brittany King, Michael Swanson, Amanda Price, Rosey Lau, Kalah Roberts, Ashley Reed, Amber Reed, Miranda Williams, Lori Lovette, Jamal Cole, Lynette Nave, Kissy Watkins and (front row – left to right) Alexus Graham, Renuka Scrivastava.
The Visual Arts Department at Meridian High School has confirmed the school's commitment to visual arts by establishing this chapter of the National Art Honor Society. The National Art Honor Society was established in 1978 by the National Art Education Association, and now has over 2,900 chapters with over 33,000 students in grades 7-12. However, the new Meridian High School chapter is the first chapter in the state of Mississippi.
Students are nominated for the National Art Honor Society based on recommendations by art teacher and completion of ninth grade and a visual art class with a grade of B+ or higher. Nomination and membership are also based on scholarship, service, and character.
For over 30 years, the National Art Education Association (NAEA) has offered the National Art Honor Society program with the goal of inspiring and recognizing secondary students who have shown outstanding ability in the visual arts. NAHS strives to encourage member to work toward attainment of the highest standards in the visual arts, and to bring art education to the attention of their schools and community.
The Meridian High School Art Honor Society will participate in various school and community activities throughout the year including art workshops, teaching and assisting at the Meridian Museum of Art, Poplar Spring Elementary Spring Arts Festival and the Meridian Council for the Arts. Students must also fulfill 20 art service hours per year and participate in an art exhibit and induction ceremony.
The inaugural members of the MHS chapter of the NAHS are: Jamal Cole, 11th grade; Somai Fikes, 10th grade; Alexus Graham, 10th grade; Mahnoor Javed, 11th grade; Brittany King, 12th grade; Rosey Lau, 12th grade; Lori Lovette, 12th grade; Saltoria Napier, 10th grade; Lynette Nave, 12th grade; Amanda Price, 12th grade; Amber Reed, 12th grade, Ashely Reed, 12th grade; Kayla Roberts, 10th grade; Renuka Scrivastava, 10th grade, Kissy Watkins, 12th grade; and Miranda Williams, 12th grade.