« Back to news list
MHS Girls Powerlifting Team Wins Second Straight State Championship!!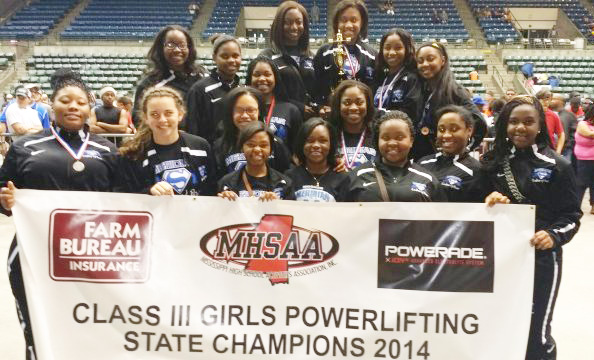 Meridian High School Girls Powerlifting State Champs pictured from left to right:
First Row: Tina Harris, Kelly Bator, Brooklyn Young, Dayja Johnson, Zoya Anderson, Anna Taylor, Ashlyn Spinks
Second Row: Breshodra Kendricks, Tykia Watts
Back Row: Acacia Brown, Sheka Crowell, Rubreon Mcwilliams, Jabria Hopkins, Destiny Starkey, Katie Glenn, Madison Carr
Meridian Star
April 8, 2014
MHS secures second straight powerlifting title
from school reports The Meridian Star
MERIDIAN — The Meridian High School girl's powerlifting team claimed their second straight Class III championship this past weekend.
The Lady Wildcats have now notched six titles in the past eight years, further cementing the notion of Meridian serving as the top powerlifting program in the state.

"This is huge," fourth-year coach Calvin Hampton said. "It's a huge accomplishment for the girls, and a huge accomplishment for the program."

The Lady Wildcats scorched their opposition, winning decisively by scoring a total of 49 points, with second place, Pearl High School and Ridgeland High School, at a distant 25 points.
Despite high expectations from the community, Hampton was confident all along in his squad that they would clinch another title.

"It was already set in stone," Hampton said. "Being from Meridian, people expect you to be champions."

Out of the 11 weight classes, MHS tallied five lifters each at the top of their respective class: Katie Glenn, 105; Jabria Hopkins, 114; Rubreon McWilliams, 123; Sheka Crowell, 132; Tykia Watts, 165.

Crowell set all-time Class III records in deadlift, 370 lbs, and total weight lifted at 780.

"It feels great," Crowell said. "It was a goal that I had set in the offseason and I did an awesome job of achieving my goal."

Additionally, Watts set the all-time squat record at 485 while Hopkins set the all-time record for deadlift at 325.

"I'm grateful to have the opportunity of being able to compete this year," Watts said. "And to win with these girls that Iíve been competing with before and worked really hard with, itís a great feeling."

Yet it wasn't all easy for the Lady Wildcats this season as the end result was the product of hard work spent in and out of the gym.

"Just seeing the girl's progression," Hampton said. "From where they started off at, then committing themselves to the hard work that powerlifting requires ... The dieting that they have to do to maintain the weight. And with them being females, all the sacrifices that they have to make in working out and geting better on a consistent basis. I'm extremely proud of them."

Added Watts, "The goal is to build upon (a weight lifted) every week," Watts said. "To get a little better every day. Gaining five pounds (on a lift) means a lot at the end of two months."

For returning seniors, maintaining the programís dominance is now the main priority.

"I'm sad to lose the seniors from this year," senior-to-be Tina Harris but I can't be sad for long because I'm going to be a leader next year and I have to work hard for my teammates."

And that hard work started off Monday with a return to practice.

"I was going to give them the week off," Hampton said. "But all my returning girls wanted to continue to practice."

Added Harris, "I feel like we've worked so hard to get where we are. We should want to work more and harder, and continue to get better."