« Back to news list
MHS National Honor Society Induction
The Meridian High School Chapter of the National Honor Society inducted 66 students on Sunday, May 4, 2014.
These students must have a 3.5 or higher cumulative GPA and pass a faculty review committee that judges applicants based on character, service, leadership, and scholarship.
During the ceremony, new officers were installed, outgoing officers were honored, and new members were inducted.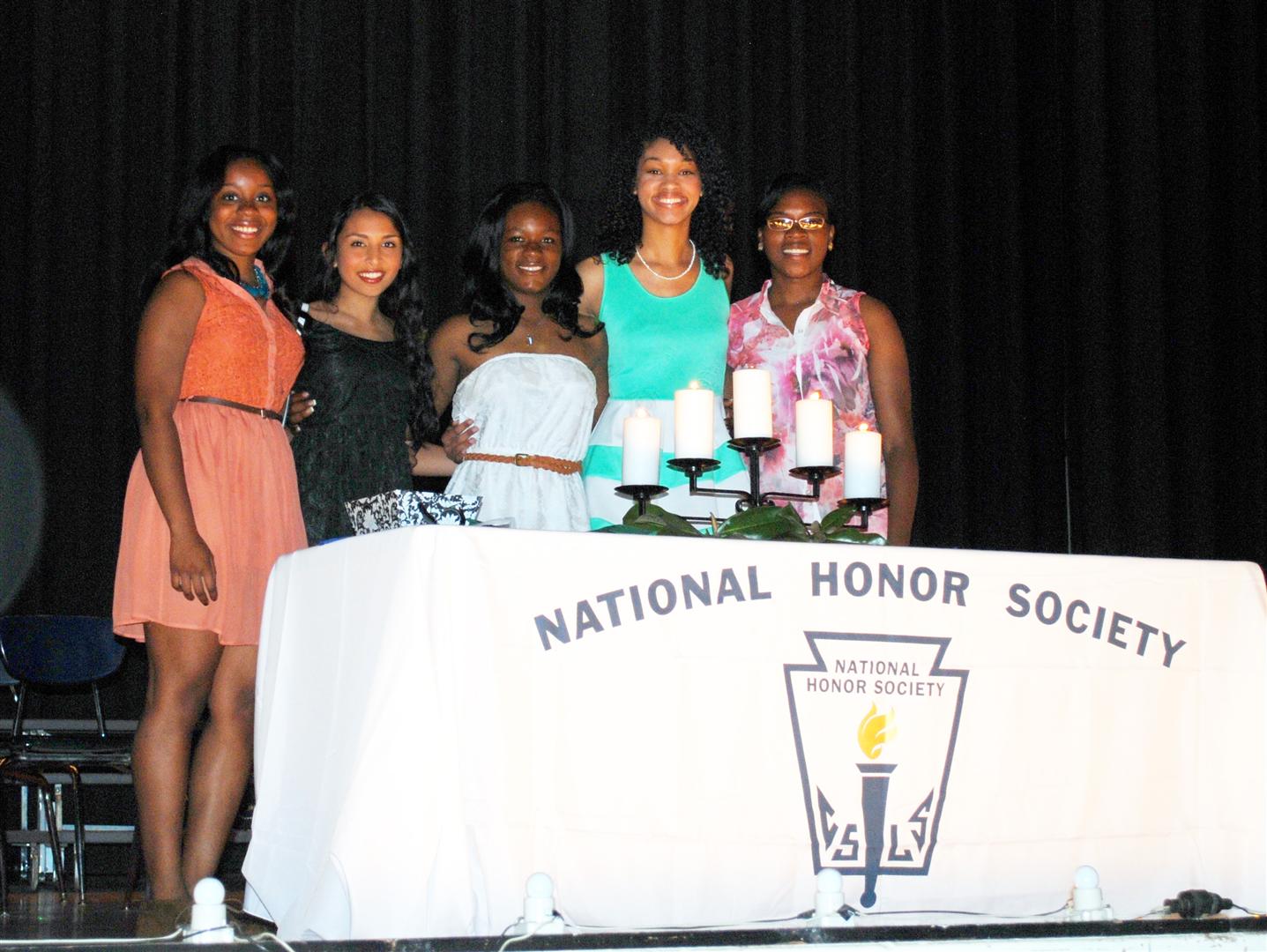 2014-15 Officers- (left to right) Breanne Steward, Reporter; Harini Patel, Treasurer; Dayja Johnson, Secretary; Alexis Crockett, President; and Tia Mitchell, Vice President
The 2014-15 National Honor Society Officers are:
President – Alexis Crockett
Vice President –Tia Mitchell
Secretary –Dayja Johnson
Treasurer –Harini Patel
Reporter –Breanne Stewart
National Honor Society Advisors: Shauna Waters and Amanda Hanegan
Congratulations to the following inductees:
Sophomores:
Simone Amos
Noah Boudreau
Keyana Boyd
Acacia Brown
Krislyn Brown
Michael Bush
Alena Calderon
Ana Calderon
Hetal Champaneri
Breana Cherry
Amanda Corey
Joquarius Dancy
Nakita Davis
Somai Fikes
Redarius Fowler
John Goldman
Alyssa Goodman
Kristen Googe
Terrence Gordon
Tawanna Grady
Alexus Graham
Marlecia Grant
Brandon Gray
Aleeyah Griffin
Jarius Griffin
Madeline Griffin
Chelsea Grissett
Brooklyn Hill
Vonyetta Hollomon
Nakia Holton
Elizabeth Jackson
Zaire Jones
Zaria Jones
Tykeyah Key
Timmy Le
Victoria Lovette
Kaitlin Nabors
Nyeshia O'Hara
Vrunda Patel
Jeffery Powe
Kawanna Prince
Barbara Pritchard
Kaylah Roberts
Cayman Ruffin
Chason Spivey
Renuka Srivastava
Traylan Talley
Anna Taylor
Allison Terrell
Bryanna Thomas
Kailah Tubbs
Elizabeth Walton Turnage
Kristian Turner
JacQueta Williams
TaNika Williams
Kaylee Zettler
Juniors:
Doorress Anderson
Darrionnia Barfield
Traci Bryan
Jamal Cole
Laporche Cole
Myi Fikes
Aliayah Gamble
Mahnoor Javed
Keily Sims
Zachary Williams
Perry Winford