« Back to news list
MPSD Honors 2014 Retirees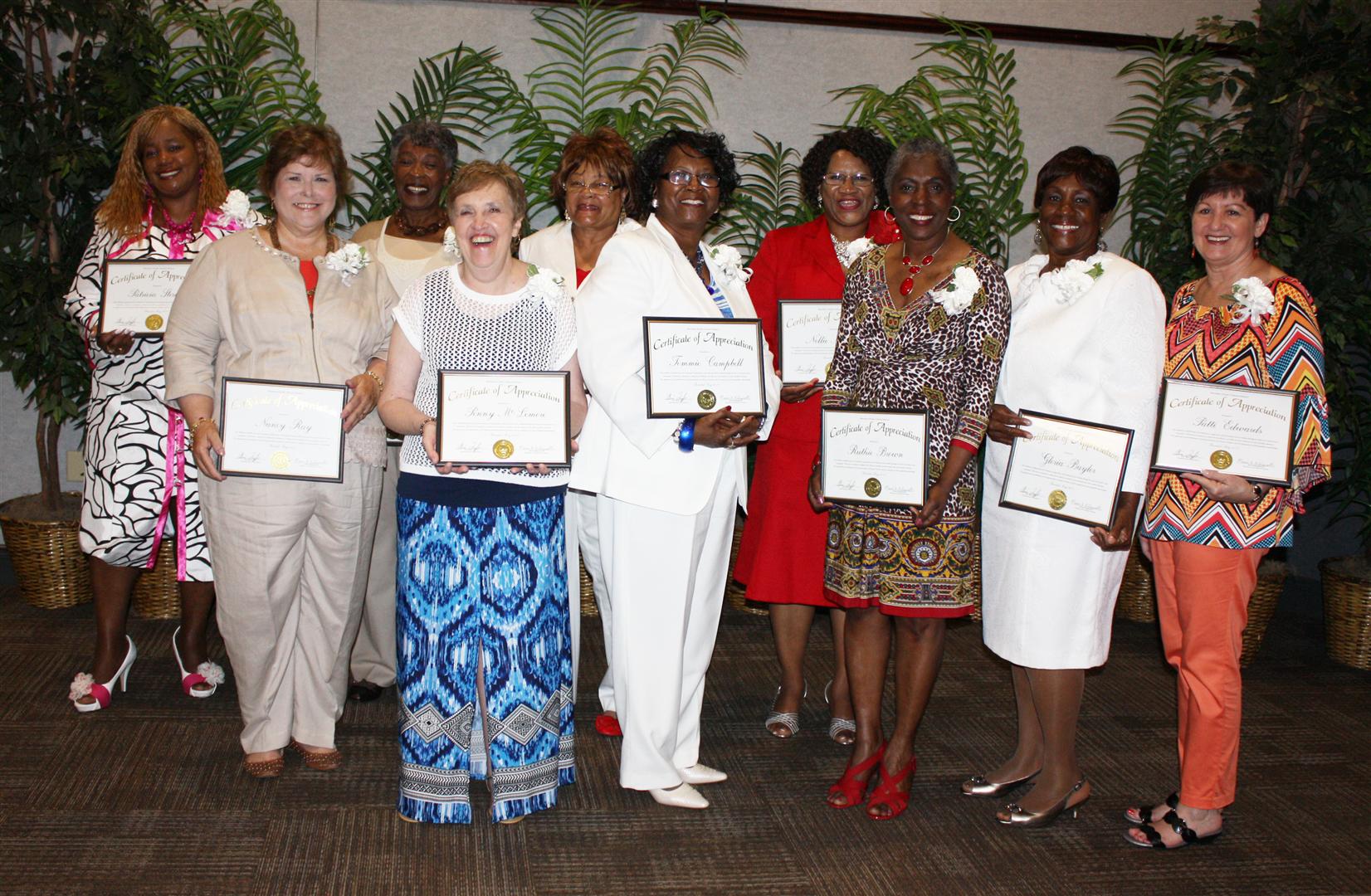 MPSD Retirement Reception Honorees included (pictured left to right): back row - Patricia Sterling, Hannah Hickman, June Harper, and Nellie McNeal, front row - Nancy Ray, Penny McLemore, Tommie Campbell, Ruthie Brown, Gloria Baylor, and Patti Edwards.
The Meridian Public School District hosted the annual Retirement Reception on Tuesday, May 20 in the Kahlmus Auditorium on the Meridian Campus of Mississippi State University to honor district personnel that are retiring after years of hard work and dedication to the students of Meridian.
"Over the years, these individuals have played an important role in the Meridian Public School District, and they have made a tremendous impact on the lives of so many students," said MPSD Superintendent Dr. Alvin Taylor. "I want to personally thank them for their dedication and service."
In all, the Meridian Public School District has 26 retirees that represent 732.5 years of experience in education.
The 2014 retirees are: Ginny Adkins, Harris Complex; Kathy Almand, Marion Park; Gloria Baylor, Marion Park; Ruthie Brown, Meridian High; Tammy Bryan, Meridian High; Tommie Campbell, T.J. Harris Lower; Scott Crenshaw, Marion Park; Missy Davis, Carver; Patti Edwards, Poplar Springs; Carl Frazier, Marion Park; Curtis Grace, Ross Collins; June Harper, T.J. Harris Lower; Hannah Hickman, T.J. Harris Upper; Sue Ann Holmes, Poplar Springs; Bessie Hopson, T.J. Harris Upper; Rosie McLaughlin, Marion Park; Penny McLemore, Meridian High; Nellie McNeal, West Hills; Cecelia Mosley, Parkview; Mary Osby, Poplar Springs; Beverly Pennington, Marion Park; Nancy Ray, Poplar Springs; Annie McCoy Smith, Parkview; Audrey Smith, Carver; Patricia Sterling, West Hills; and Steve Westbrook, Meridian High.