« Back to news list
MHS Earns 'Schools of Excellence' Award for Visual & Performing Arts Small Learning Community
The Mississippi Alliance for Arts Education has selected Meridian High School to receive the 2014 Schools of Excellence High School Award for the Visual and Performing Arts Department in recognition of MHS's contributions to arts education. The award will be formally presented on Wednesday, July 16, at 12 noon, at the Whole Schools Institute at the MSU Riley Center.
The MAAE Schools of Excellence Award recognizes and honors individual schools or school districts that make the arts an essential part of education by:
1) teaching the arts as specific disciplines;
2) making strong interdisciplinary connections between the arts and other subjects;
3) promoting imaginative learning environments that include hands-on, creative arts-based instructional practices;
4) providing opportunities for multicultural learning through the arts.
Congratulations to Meridian High School for earning this prestigious award!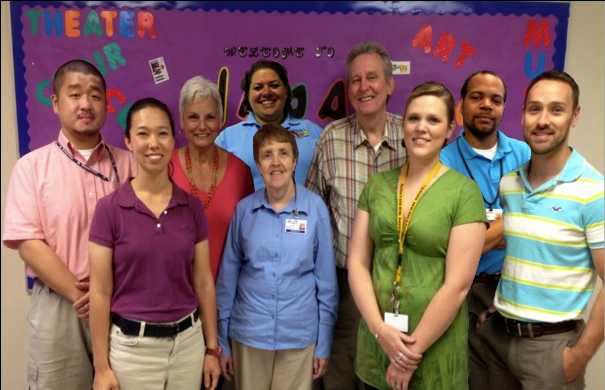 MHS Visual and Performing Arts Instructors (pictured left to right) front row: Jennifer Davis, Penny McLemore, Elizabeth Fisher, Rob Larocco; back row: Bob Meng, Marsha Iverson, Elizabeth Hines, Steve Westbrook, and Antonio Altman.