« Back to news list
Perry Winford, MHS Senior, Earns College Degree Before Finishing High School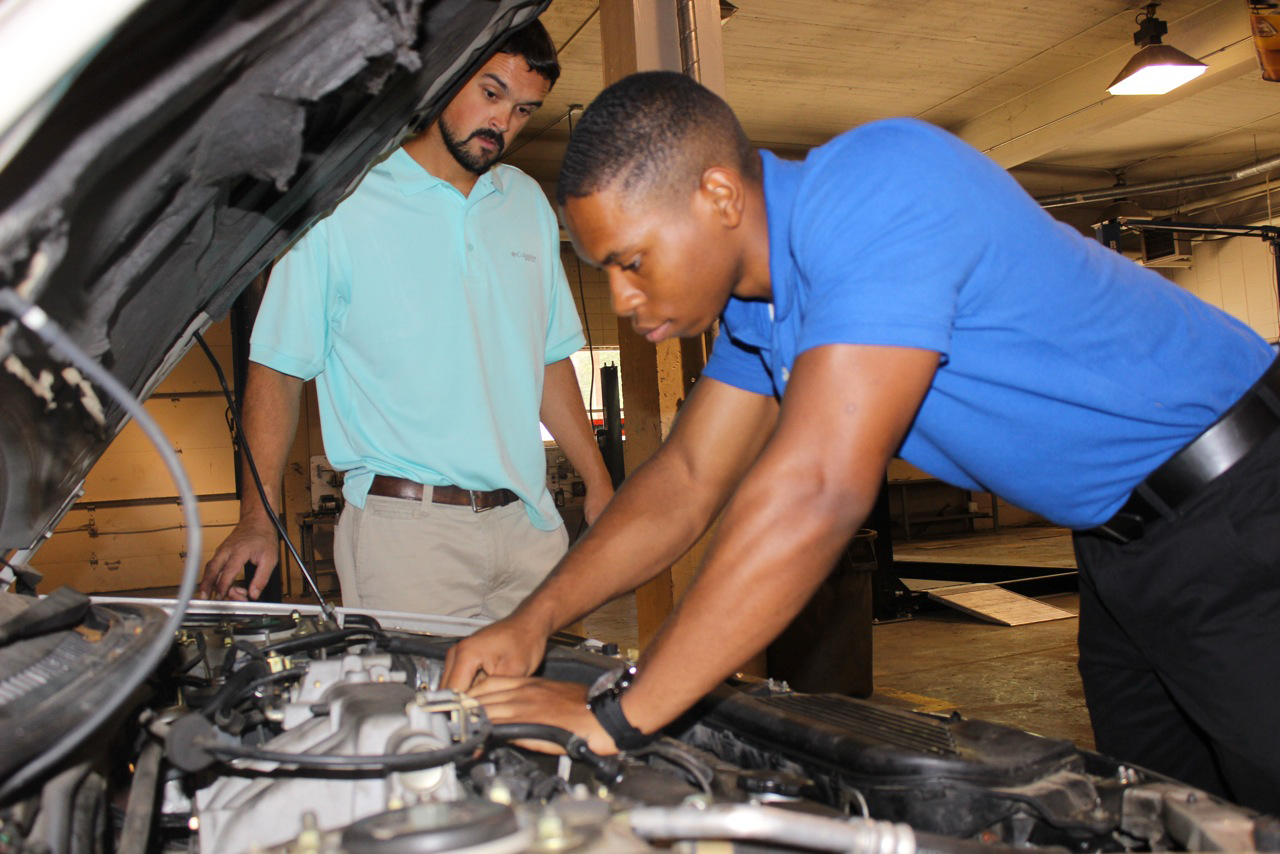 Photo Courtesy of Brandon Ward/The Meridian Star
Perry Winford, right, who received an associate's certificate degree in automotive technology from Meridian Community College last year, works on a car while instructor Matt Johnson observes.
Learning with discipline
By: Brandon Ward/The Meridian Star
bward@themeridianstar.com
Not every student can say they have completed a college program while still in high school. Meridian High School Senior Perry Winford is among the few who can.
Winford earned an associate's certificate degree in automotive technology last year while a junior in high school. He completed dual enrollment courses at MHS' Ross Collins Career and Technical Center and Meridian Community College, which allowed him to complete the college-level course work.
Winford said he has always liked to work on and be around cars.
"I wanted to have a good mechanical background before I continued my education in mechanical engineering," he said. "I love cars, especially old ones. When I retire, I want to get a job in a shop, designing car engines."
Once he completes high school, Winford plans to join the U.S. Army and take advantage of the educational benefits it offers.
"I plan on getting as many degrees as I can while I am in the military," he said. "I plan on working in the military until I retire. My dad is in the military as well, so I am familiar with the lifestyle. My goal is to be an Army ranger."
Winford says getting a proper education is important to him because of the many doors it can open.
"Getting a good education secures your future. It makes sure you can establish a better living environment for you and your family," he said.
Winford is very active on campus, participating in the MHS JROTC program, as well as being part of the school's power lifting team, which recently placed second in the state.
"Meridian High School has just provided me so many different educational opportunities," Winford said. "Some schools don't have the opportunities we have here. The teachers and instructors here take the time to really teach you things."
Winford said he wants to be an example for others. He wants to be remembered for his persistence, hard work and discipline. His discipline is the very thing Meridian High School Principal Victor Hubbard says make him special.
"I have known Perry since he was in the ninth grade," Hubbard said. "He has never had any discipline infractions. I don't even believe Perry has ever been late for a class while attending MHS. Discipline has everything to do with the success of academics; it is obvious Perry is disciplined. He is involved in JROTC and the powerlifting team, both require a large amount of discipline and self-drive."
Ross Collins Career and Technical Director Rob Smith said seeing students succeed in academics is the overall goal of the facility.
"Nothing pleases me more to see the results of Perry's hard work," Smith said. "Just to see a student have this opportunity before they even graduate high school. He is a smart kid. He scored an 83 on the dual enrollment CPAS test, which was the top score in the state that year."
According to Smith, the partnership between the school and MCC is vital in powering the dual-enrollment programs.
"Without the help of Meridian Community College, these opportunities would not be possible," he said. "The goal we share is to get students to continue their education after high school."
Ross Collins currently has five programs included in the dual-enrollment curriculum: drafting, wielding, automotive, health and marketing. The program serves any student within the Lauderdale County boundaries.