« Back to news list
PBIS Teachers of the Year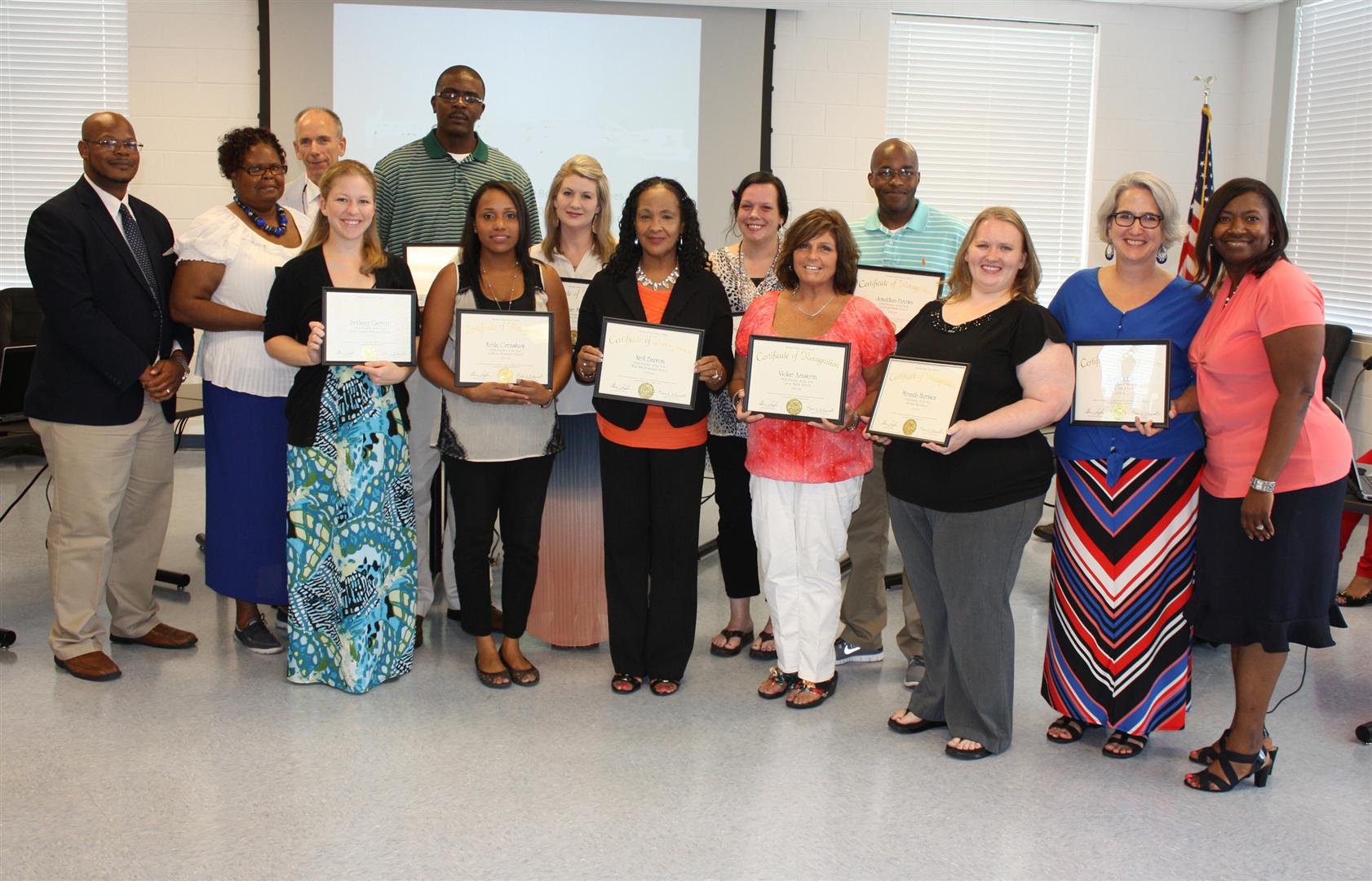 Pictured left to right: front row - Dr. Alvin Taylor, MPSD Superintendent; Amy Grady, Magnolia Middle School; Bethany Garrett, Poplar Springs Elementary; Keila Crenshaw, Parkview Elementary; Nell Barron, West Hills Elementary; Vickie Arnstein, Carver Middle School; Miranda Harrison, Meridian High School; Lori Gatlin, Marion Park; and Dr. Amy Carter, MPSD Assistant Superintendent of Student Services. Back row - Howard Hagwood, PBIS Director; Thomas Adams, Crestwood Elementary; Jamie Manning, T.J. Harris Lower Elementary; Jessica Wilson, T.J. Harris Upper Elementary; and Jonathan Brown, Northwest Middle School. Not pictured: Janice Turnage, Oakland Heights Elementary

The Meridian Public School District recently recognized 12 teachers for their outstanding implementation of the Positive Behavioral Interventions and Support (PBIS) program during the 2013-14 school year.
"We are elated that we have so many teachers modeling quality education, not just in academics, but also through positive classroom environments," said Dr. Amy Carter, MPSD Assistant Superintendent of Student Services. "These teachers have created exemplary supportive learning communities, and that is the key to helping all students be successful."
PBIS was initially introduced in the Meridian Public School District in the Spring of 2012. The program was partially implemented during the 2012-13 school year with full implementation including a new student Code of Conduct per the consent decree with the U.S. Department of Justice in the 2013-14 school year.
PBIS is a proactive approach to discipline that includes strategies for defining, teaching, and supporting appropriate student behaviors to create positive school environments.
"Since the introduction of PBIS in the Meridian Public School District, discipline referrals for the 2013-14 school year declined by approximately 33 percent and exclusionary discipline, which includes in-school suspension, out-of-school suspension, alternative placement, and expulsion, has declined by approximately 49 percent," said Howard Hagwood, PBIS Director for MPSD. "I want to thank these teachers for their hard work and the large role they played in helping us see a decrease in student discipline."
The MPSD PBIS Teachers of the Year were selected by the Administrative Discipline Teams at their school for going above and beyond what is required through PBIS and best exemplifying the characteristics of successful PBIS implementation.
"I am very proud of the PBIS Teachers of the Year for their excellent skills in classroom management and developing positive relationships with students," said MPSD Superintendent Dr. Alvin Taylor. "These teachers symbolize what all educators should be striving toward."
In addition to special recognition at the most recent meeting of the MPSD Board of Trustees, the PBIS Teachers of the Year will receive a monetary incentive through job embedded professional development. MPSD is the only district in the state of Mississippi that hosts a monetary incentive program for high performing teachers and administrators. This incentive program is made possible through job embedded professional development and funded by the school district, MPSD Federal Programs, and The Phil Hardin Foundation.
The PBIS Teachers of the Year for the 2013-14 school year are as follows:
Thomas Adams, Crestwood Elementary
Jamie Manning, T.J. Harris Lower Elementary
Jessica Wilson, T.J. Harris Upper Elementary
Keila Crenshaw, Parkview Elementary
Bethany Garrett, Poplar Springs Elementary
Janice Turnage, Oakland Heights Elementary
Nell Barron, West Hills Elementary
Vickie Arnstein, Carver Middle
Amy Grady, Magnolia Middle
Jonathan Brown, Northwest Middle
Miranda Harrison, Meridian High
Lori Gatlin, Marion Park