« Back to news list
Oakland Heights Named 'Champion of Change' by MDE
Congratulations to Oakland Heights Elementary School for being named a 'Champion of Change' and earning High Progress status by the Mississippi Department of Education!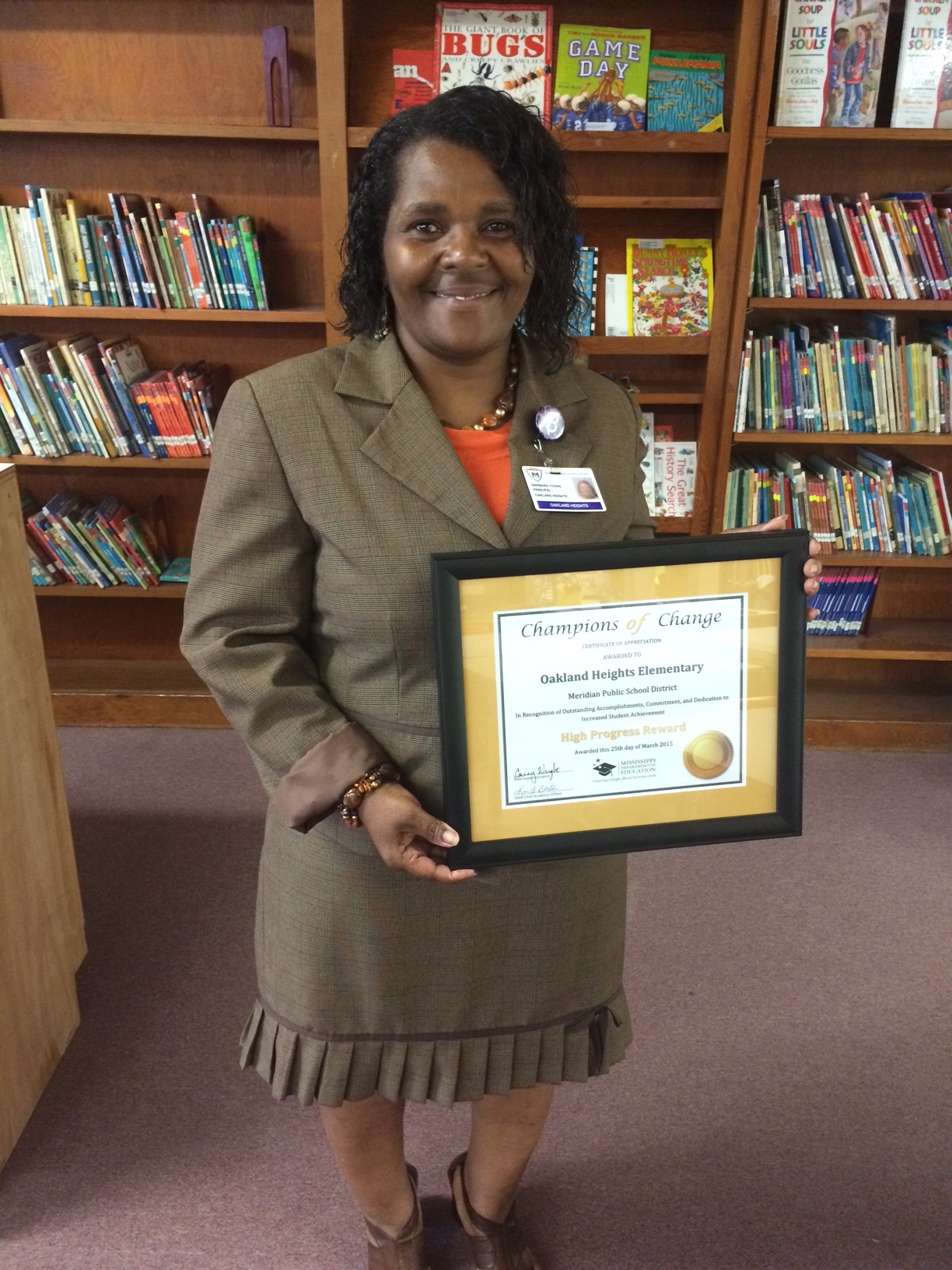 Barbara Young, Principal of Oakland Heights Elementary, accepted the 'Champions of Change' award on behalf of Oakland Heights for 'High Progress' status at a special celebration held at the Mississippi Department of Education on March 25, 2015.
MDE Recognizes 51 Schools for Academic Progress, Closing Achievement Gap
The Mississippi Department of Education (MDE), Offices of Federal Programs and Special Education recognized 51 schools for academic achievement or progress during a ceremony today at the Central High School Building. Schools that earned the title of High Progress, High Performing, Exemplary Inclusion and/or Title I Distinguished under federal Title I guidelines were honored as "Champions of Change."
The federal Title I program provides funding to schools across the country for students at risk of failure and living in or near poverty. The goal of Title I funding is to provide students with a fair and equal opportunity to meet challenging academic standards and to help school districts close the achievement gap.
"It takes exceptional people with patience, knowledge, experience, and dedication to make schools successful," said Dr. Carey Wright, state superintendent of education. "School leadership, community partnerships, parental engagement and school building level teamwork brought this honor to the schools and districts."
The High Progress status is awarded to schools across the state for demonstrating the greatest gains in closing achievement gaps among students. This award status goes to schools that represent the highest 10 percent of schools that have improved in overall performance over the past two years and showed performance gains of the lowest 25 percent subgroup of students.
The High Performing status is awarded to schools for demonstrating the highest performance across all Title I schools in the state. High Performing schools represent the highest 20 percent of all schools in performance over the past two years, show performance gains of the lowest 25% subgroup of students, meet all annual measurable objectives (AMOs), and earn a high graduation rate.
The Exemplary Inclusion award is being presented to schools for demonstrating and encouraging full inclusion of children with disabilities in all aspects of academic and extracurricular activities.
The Distinguished School status is awarded to the top 20 Title I schools for academic student performance, in Reading, Language Arts, and Math for two or more consecutive years while effectively closing the achievement gap between the black and white subgroups. Two schools earned national recognition as Title I Distinguished Schools – Bassfield High School, Jefferson Davis County School District and O'Bannon Elementary, Western Line School District.
"Ceremonies of this nature highlight the resilient ability of the administrators, teachers, parents, and students to overcome academic barriers created by poverty," said Marcus E. Cheeks, director of federal programs.
Here is a complete list of honorees:
High Progress
1. Jonestown Elementary, Coahoma County School District
2. Sherard Elementary, Coahoma County School District
3. Heidelberg Elementary, East Jasper School District
4. Charleston Elementary, East Tallahatchie School District
5. Benndale Elementary, George County School District
6. Armstrong Elementary, Greenville Public School District
7. Coleman Middle, Greenville Public School District
8. Pineville Elementary, Harrison County School District
9. Bolton-Edwards Elem/Middle, Hinds County School District
10. Bailey Middle APAC, Jackson Public School District
11. Chastain Middle, Jackson Public School District
12. Davis Magnet, Jackson Public School District
13. Dawson Elementary, Jackson Public School District
14. Key Elementary, Jackson Public School District
15. McLeod Elementary, Jackson Public School District
16. Northwest Middle, Jackson Public School District
17. Power APAC, Jackson Public School District
18. Moselle Elementary, Jones County School District
19. Byhalia Middle, Marshall County School District
20. Oakland Heights Elementary, Meridian Public School District
21. I.T. Montgomery Elementary, Mound Bayou Public School District
22. Falkner Elementary, North Tippah School District
23. Simpson Central, Simpson County School District
24. Batesville Junior High, South Panola School District
25. Pope Elementary, South Panola School District
26. James Rosser Elementary, Sunflower County Consolidated School District
27. Ruleville Middle, Sunflower County Consolidated School District
28. Dundee Elementary, Tunica County School District
29. Vicksburg Intermediate, Vicksburg-Warren School District
30. West Bolivar Elementary, West Bolivar School District
31. Finch Elementary, Wilkinson County School District
32. Wilkinson County Elementary, Wilkinson County School District
33. William Winans Middle, Wilkinson County School District
High Performing
1. Weddington Elementary, Greenville Public School District
2. Casey Elementary, Jackson Public School District
Exemplary Inclusion
1. Pass Christian Middle, Pass Christian School District
2. Lockard Elementary, Sunflower County Consolidated School District
Distinguished Schools
1. Bassfield High, Jefferson Davis County School District*
2. O'Bannon Elementary, Western Line School District*
3. Saucier Elementary, Harrison County School District
4. Ruleville Middle, Sunflower County Consolidated School District
5. Heidelberg Junior High, East Jasper School District
6. Thrasher High, Prentiss County School District
7. Delisle Elementary, Pass Christian School District
8. Woodley Elementary, Hattiesburg Public School District
9. Jonestown Elementary, Coahoma County School District
10. West Lowndes Middle, Lowndes County School District
11. Key Elementary, Jackson Public School District
12. Byhalia Middle, Marshall County School District
13. Wesson Attendance Center, Copiah County School District
14. North Panola High, North Panola School District
15. East Hancock Elementary, Hancock County School District
16. Richland High, Rankin County School District
17. Finch Elementary, Wilkinson County School District
18. Denman Junior High, McComb School District
19. Southeast Lauderdale Elementary, Lauderdale County School District
20. Seminary High, Covington County School District
*National Recognition