« Back to news list
Eight MHS Players Sign on 2016 National Football Signing Day
Article Courtesy of the Meridian Star
By Drew Kerekes dkerekes@themeridianstar.com
Feb 3, 2016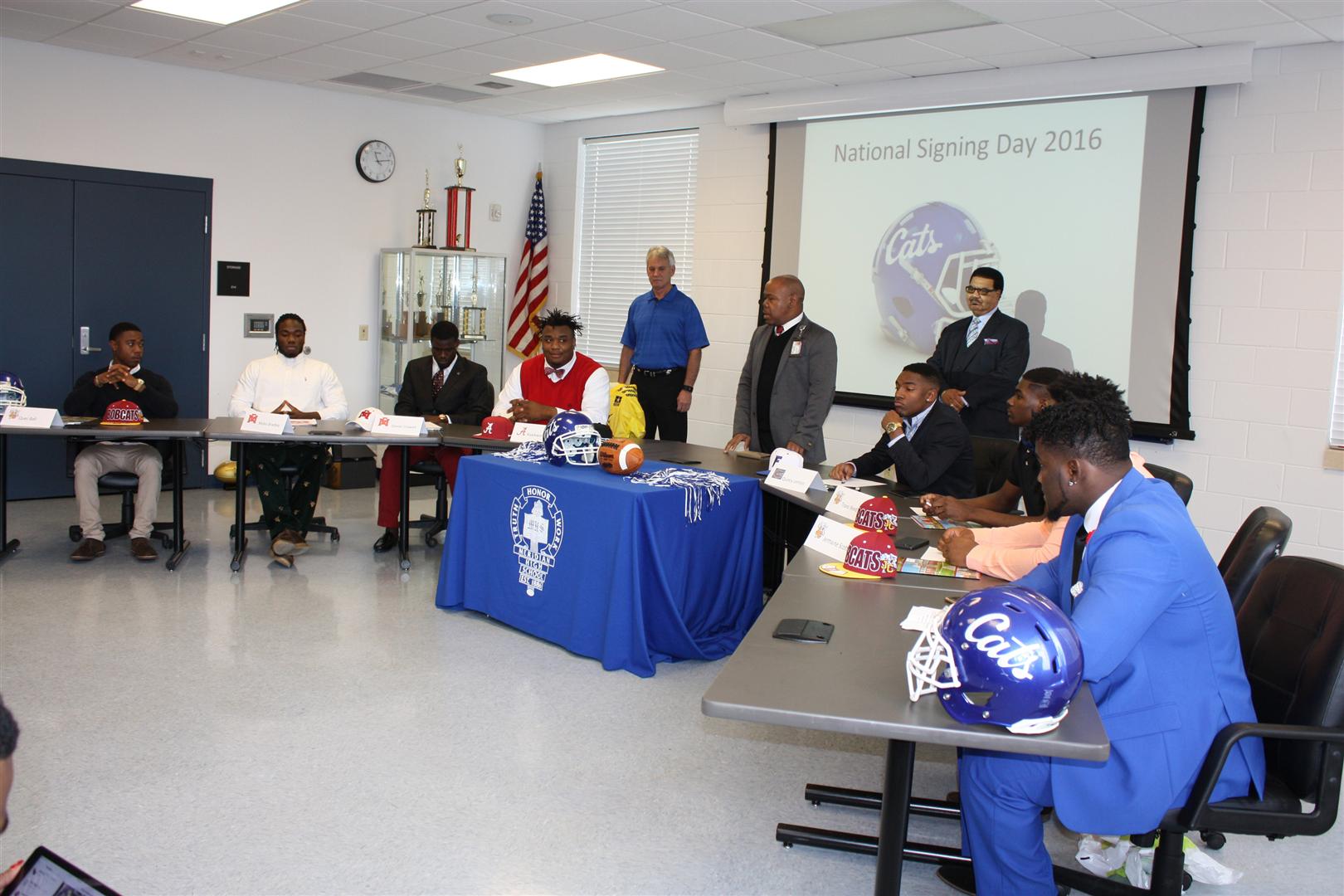 Eight Meridian High School Players Sign on 2016 National Football Signing Day
Wednesday was an emotional day at Meridian High School.
Eight football players signed with two-year and four-year schools to continue playing the sport they love. Some opted to remain close to family and friends, others chose to travel farther away from home.
Mixed in with all of the emotions of the players inking with their schools of choice, it was also a chance for the soon-to-be former Wildcats to have one more special moment with Larry Weems. Weems, who resigned as head football coach at Meridian in December and recently accepted the same position at Jackson Academy, was on hand to see his players sign the dotted lines and fulfill their dreams.
Not to let their coach go without sending him off properly, defensive tackle Julius Turner offered Weems a football with their signatures as a commemorative gift.
"It was special," Turner said. "Coach Weems has been here my whole high school career, since ninth grade, and I love him and wish him the best of luck wherever he's at."
Weems said the ceremony wasn't about him, but he will always be grateful for the gesture by his former players.
"It's about like you'd expect," Weems said of the moment. "It's pretty emotional. It's hard to leave them."
It was also rewarding to watch so many of his guys see their dreams come true, Weems added.
"It's great," Weems said. "Anytime you see the players get rewarded for all the work they've done and have the opportunity (with athletics) to get an education, that's pretty special."
TURNER FLIPS TO RUTGERS
Though he was committed to Louisiana Tech for some time, Turner opted late in the process to sign with Rutgers University. He announced his decision Wednesday morning at Meridian.
"They came in late, because they got a new coaching staff," Turner explained. "Coach (Chris) Ash from Ohio State, as soon as he came in, they started hitting me up. That's when it started."
Turner expressed both excitement over a new chapter in his life and relief that the recruiting process is over. Though he'll be far from home — Rutgers is in Piscataway, N.J. — Turner said he's not concerned about the distance.
"I have a lot of support behind me with my family, so I think I'll be all right," Turner said.
DAVIS ENDS UP AT ALABAMA AFTER ALL
Defensive lineman Raekwon Davis committed to Alabama almost two years ago. Speculation was rampant he might switch. A couple of weeks ago, he appeared to have changed his commitment to Mississippi State, only to later say he remained committed to Alabama.
Wednesday morning, the speculation ended as Davis signed a letter of intent to play for the Crimson Tide.
"Alabama, I feel like it's a great place," Davis said. "It's a great environment for me; it's home to me. I think the coaching staff can make me better. I can be great going to Alabama."
Davis said he expects to line up in the three-technique or five-technique on the Alabama defensive line.
"They think I'm a huge weapon for their program," Davis said.
It's going to be difficult leaving all of his teammates, Davis said, but he's glad so many of them got to play beyond the high school level.
"We have nine people going to college, and that's really big for us," Davis said. "I hate some of them will probably play each other. We're going to move on with life, but we're going to be great.
"I've known these boys all my life. It's hard (moving on). We're getting separated, but we're still going to be family at the end of the day."
Davis actually signed two papers, one to Alabama and another to Jones County Junior College, should he fail to make the grades to get into Alabama.
TWO MORE WILDCATS SIGN WITH SEC SCHOOLS
Defensive backs Zaire Jones and Quincy Lenton inked with Vanderbilt and Florida, respectively. Jones was not on-hand — he actually finished school in December and was already enrolled at Vanderbilt.
Lenton said he's looking forward to getting down to Gainesville and vying for playing time.
"I'm looking forward to bonding with my teammates," Lenton said. "I'm trying to get in and play early."
It was one of the biggest decisions in his life, and Lenton said he feels like he made a good one, since he feels at home at Florida.
"The coaches, they showed love," he said. "They treat you like brothers, like family. I'm just happy to step in and make an impact."
Like Davis, Lenton said leaving his teammates will be tough, but he's glad to see them get so many opportunities.
"It's an honor to be around so much talent every day at school, and I just wish all of them the best of luck wherever they go."
FIVE SIGN WITH JUNIOR COLLEGES
Lineman Myles Bradley and wide receiver Daniel Crowell inked with East Mississippi Community College, while cornerback Quez Ball, offensive guard Jermaine Scott and wide receiver/safety Travis Reed signed with Jones County Junior College.
Crowell, a former Ole Miss commit, said he's glad to have the chance to play for a winner and hopes to build up his stock so he can be recruited again in two more years.
"I can get faster and stronger, and I feel like it's best for me right now," Crowell said. "It's definitely nice to go to Titletown to play for them. It's a legacy that I want to continue."
Reed said the Jones County program was a good fit for him, and he's grateful to have the chance to keep playing the sport he loves.
"I'm so proud I can continue to play," Reed said. "Some people don't have that opportunity. I'm just jacked up about it — very blessed."
Scott said it was special to be joined by two other Meridian teammates and joked their familiarity would come in handy on the field.
"That means we can run some of our plays out there," Scott said with a smile.