« Back to news list
Terrence Roberts Named 2016 MPSD Parent of the Year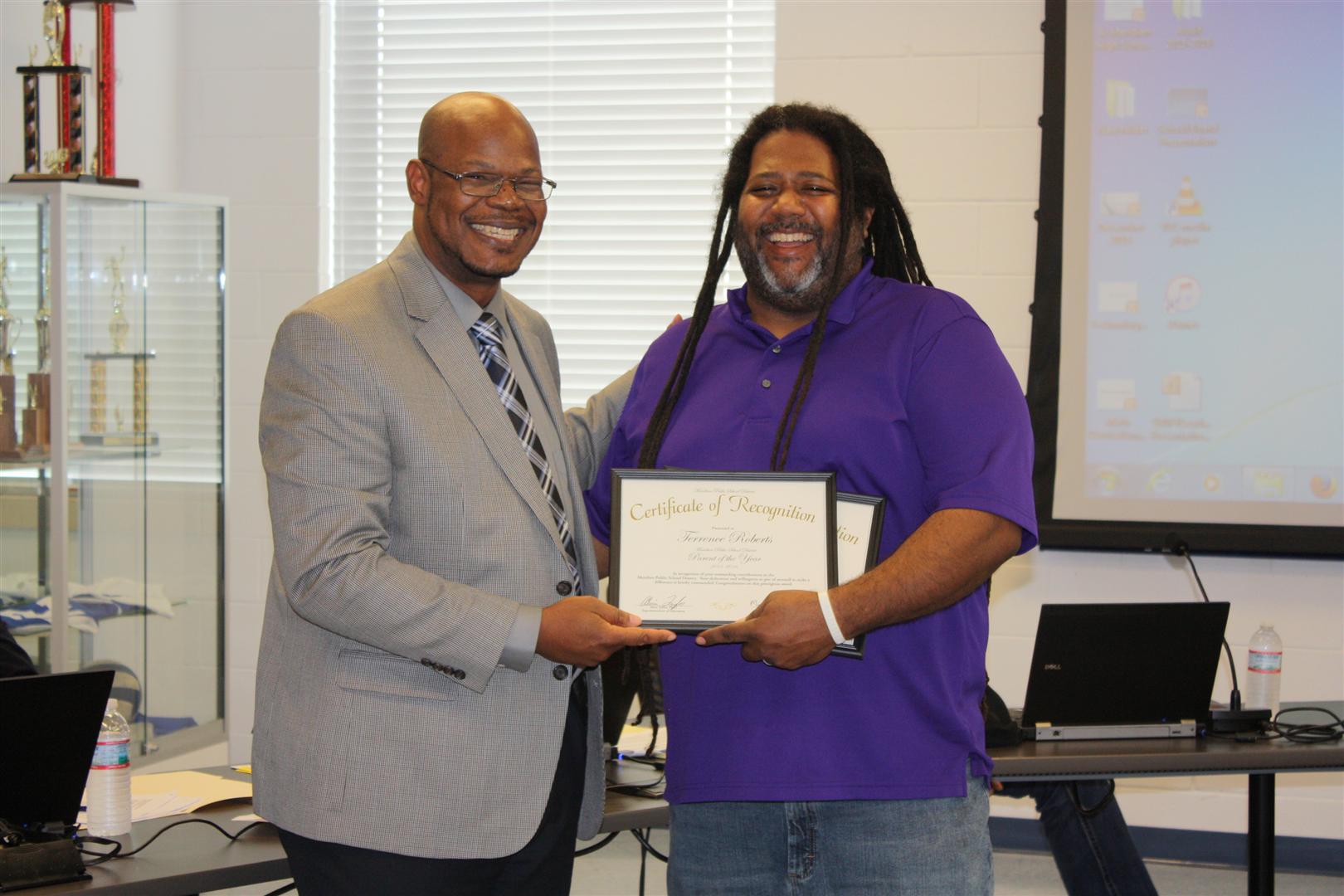 2016 Meridian Public School District Parent of the Year Terrence Roberts (right) pictured with MPSD Superintendent Dr. Alvin Taylor (left).
Terrence Roberts was named the 2016 Parent of the Year for the Meridian Public School District during the April meeting of the MPSD Board of Trustees.
"Mr. Roberts exemplifies the type of parental support that we need in our schools," said Justus Booth, Northwest Middle School Principal. "He has played a key role in the culture change and success of Northwest Middle School this year. His work through the PTO and school store has been a tremendous benefit to all of the Northwest students and staff."
As an active Parent and Teacher Organization (PTO) member, Roberts works in the school store on a weekly basis. In attendance for every PTO meeting and school event, he helps serve food to parents and students during school functions. Roberts, along with Northwest PTO President Danny Davis, helped purchase two refrigerators for the school faculty. In addition, Roberts serves as a mentor to many students at Northwest.
Roberts has been actively involved at Northwest Middle School since his daughter, Zion, began school there in sixth grade. Even though his daughter moved on to ninth grade at Meridian High this year, Roberts' commitment to Northwest continues to shine as he is still an integral part of the Northwest family.
"We are very grateful to Mr. Roberts for his devotion to Northwest Middle School," said Booth.
"Parents are the foundation to the success of students," said MPSD Superintendent Dr. Alvin Taylor. "Mr. Robert's involvement and dedication is exemplary and sets an example of what other parents should strive for regarding involvement in their child's education. We are so proud to have him represent the Meridian Public School District as Parent of the Year."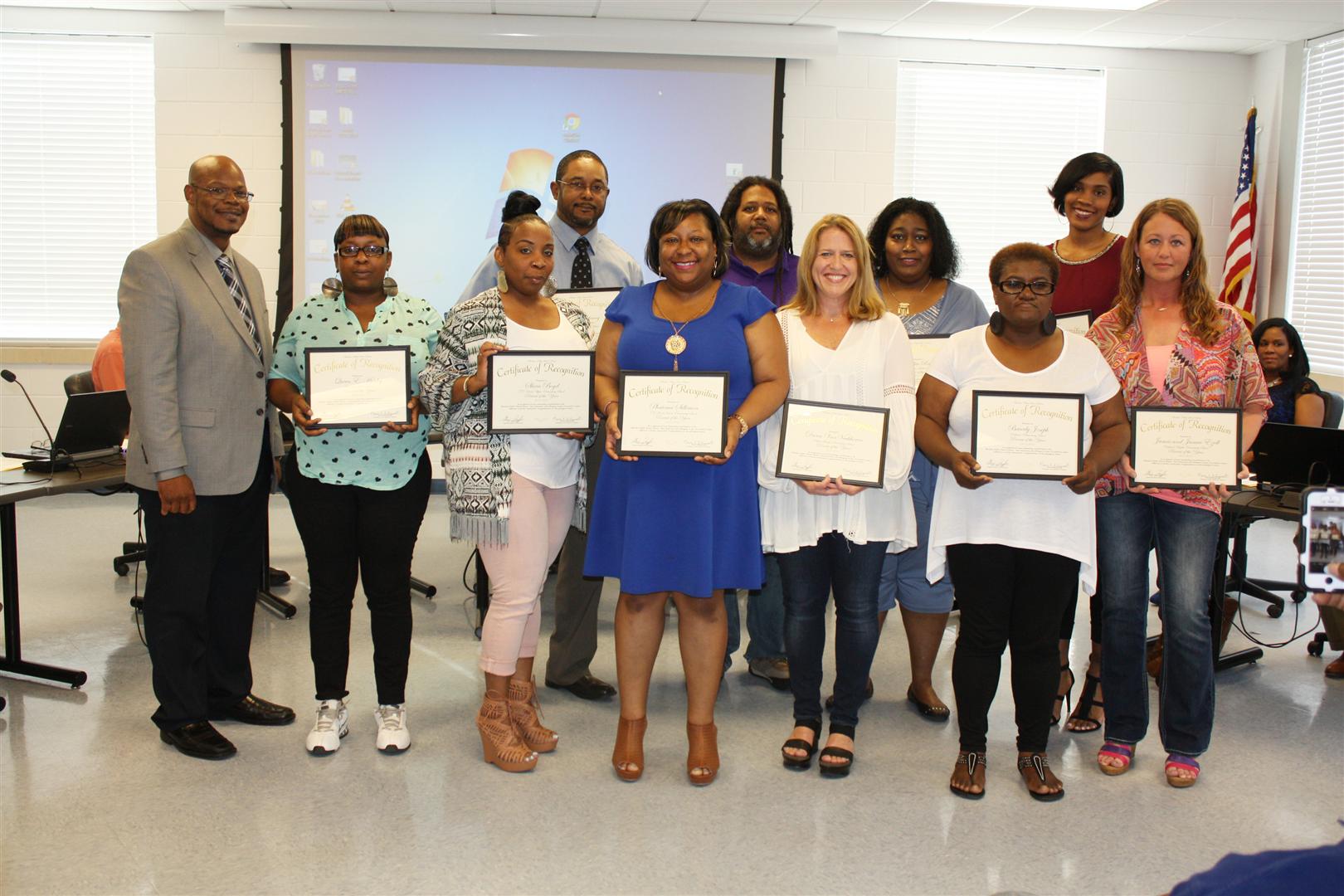 2016 Parents of the Year for each school are pictured left to right: (front row) Dr. Alvin Taylor, MPSD Superintendent; Queen E. Henley, Marion Park; Shira Boyd, T.J. Harris Upper Elementary School; Phatema Sillimon, T.J. Harris Lower Elementary School; Dana VanVeckhoven, Poplar Springs Elementary School; Beverly Joseph, Parkview Elementary School; Janice Ezell, Oakland Heights Elementary School (back row) Eric Young, Meridian High School; Terrence Roberts, Northwest Middle School and MPSD Parent of the Year; Sophie Ruffin, Magnolia Middle School; and Shanesha Turner, West Hills Elementary School. Not pictured: Annie Byrd, Carver Middle School and Faith Love Cole, Crestwood Elementary School.
The MPSD Parent of the Year is chosen from those who represent their individual schools as Parent of the Year. Congratulations to the following Parents of the Year for each school:
Crestwood Elementary – Faith Love Cole
Oakland Heights Elementary – James and Janice Ezell
Parkview Elementary – Beverly Joseph
Poplar Springs Elementary – Dana VanVeckhoven
T.J. Harris Lower Elementary – Phatema Sillimon
T.J. Harris Upper Elementary – Shira Boyd
West Hills Elementary – Shanesha Turner
Carver Middle – Annie Byrd
Magnolia Middle – Sophie Ruffin
Northwest Middle – Terrence Roberts
Meridian High - Eric Young
Marion Park – Queen E. Henley