« Back to news list
Meridian High School Celebrates the Class of 2016
The Class of 2016 is leaving Meridian High School with over $9 million in scholarship offers to continue their education at colleges and universities across the country.
They officially graduate on Friday, May 20 at 7:00 p.m. in Ray Stadium.
"On behalf of the faculty and staff of Meridian High School, we are excited about the accomplishments of the Class of 2016," said MHS Principal Victor Hubbard. "The students have worked very hard to accomplish the goal of earning a high school diploma. We wish them well on their future endeavors, and we know that they will continue to move from 'Good to Great.'"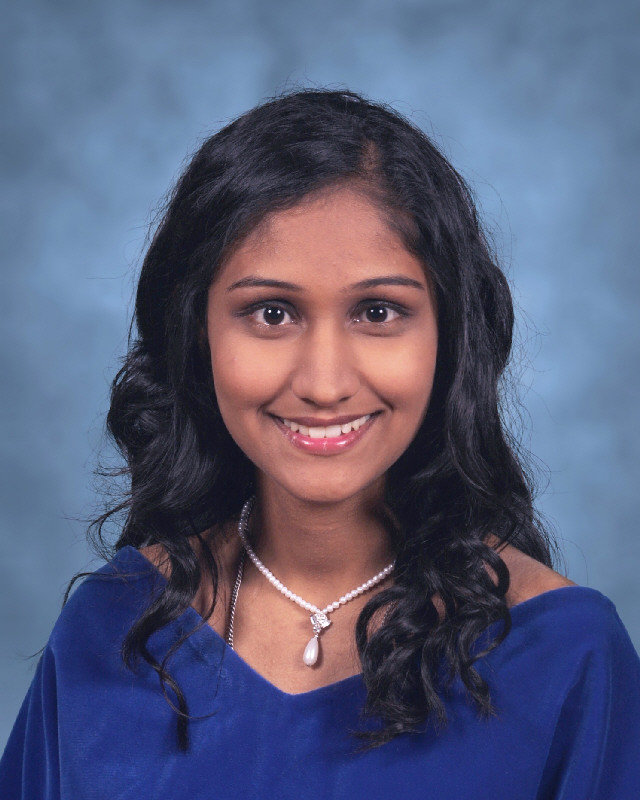 2016 Meridian High School Valedictorian Renuka Srivastava
Renuka Srivastava will represent the 2016 graduating class as Valedictorian. She currently serves as President of the Senior Class, President of the Rotary Interact Club, Project Manager for the National Art Honor Society, Secretary and Treasurer for the National Honor Society, member of the A-Team Science Club, and member of the Academic A-Team. Renuka has been very involved during her four years at Meridian High School, and she previously served as President of the Spanish Club, President of the A-Team Science Club, and Junior Civitan Club member. Renuka is also an active part of the community and has served as the President of the Mayor's Youth Leadership Council for two years as well as a representative in the Leadership Lauderdale Youth Program. This year, Renuka received the Presidential Award for Volunteering from President Barack Obama. She is also a Mississippi Scholar. Reunka plans to attend the University of Alabama at Birmingham and double major in Neuroscience and Political Science. She is the daughter of DK and Puspha Srivastava.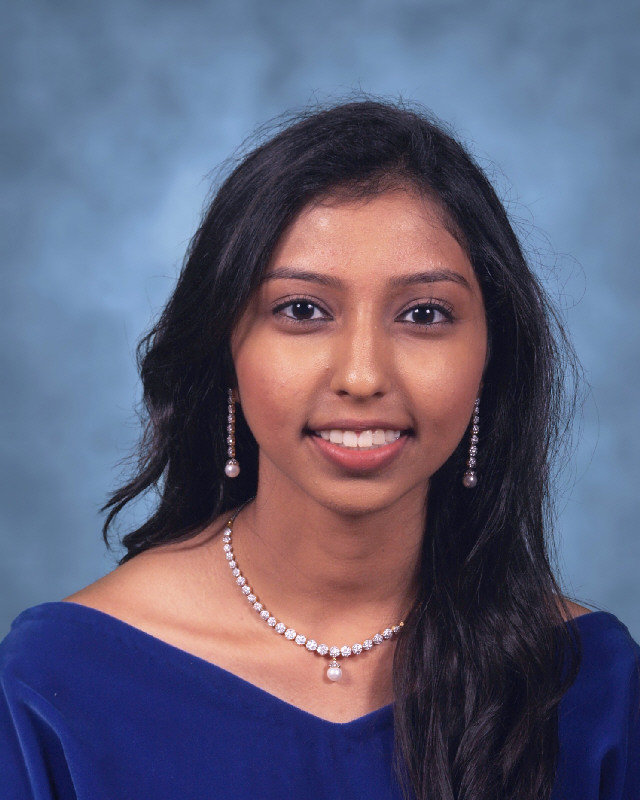 2016 Meridian High School Salutatorian Vrunda PatelVrunda Patel is the 2016 Salutatorian. She currently serves as the Senior Class Secretary and Treasurer and previously served as the Student Council Minority Representative for two years. An active student at Meridian High School, Vrunda has been a member of the National Art Honor Society, National Honor Society, Rotary Interact Club, Spanish Club, Science A-Team, and yearbook staff. In addition, Vrunda is a Mississippi Scholar and Provost Scholar at Ole Miss. She plans to attend the University of Mississippi and major in Biology. Vrunda is the daughter of Ramesh and Sweta Patel.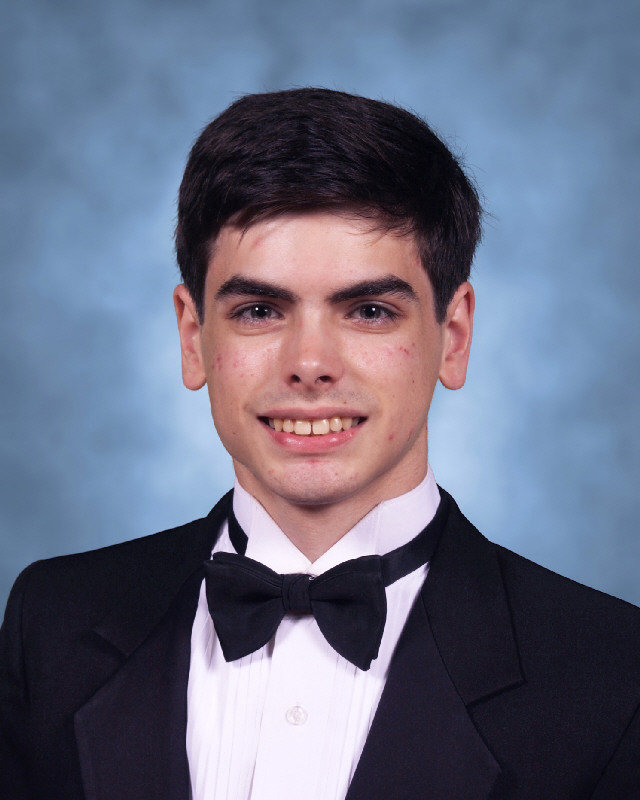 2016 Meridian High School Star Student
The 2016 Star Student is John Thomas Goldman. John Thomas was also a National Merit Finalist. He plans to attend Texas A&M University to major in Aerospace Engineering. John Thomas chose Michelle West, Meridian High School Chemistry instructor, as his Star Teacher.
Top 10 Students:
Renuka Rani Srivastava, Vrunda R Patel, Madeline Hope Griffin, Amanda Grace Corey, Alyssa Glynn Goodman, Chelsea Marie Grissett, Kaylee Joanna Zettler, Marlecia Jakia Grant, John Thomas Goldman, and Alexus Aliyah Graham
More Information about the MHS Class of 2016:
· 305 total graduates
· 33 graduating with Highest Honors (cumulative GPA of 3.75 or better)
· 46 graduating with Honors (cumulative GPA between 3.25 – 3.7499)
· 47 National Honor Society Members
· 52 of the graduates are Mississippi Scholars
· 18 of the graduates are Mississippi Scholars Tech Masters
Meridian High School Class of 2016
HIGHEST HONORS
Renuka Rani Srivastava, Vrunda R Patel, Madeline Hope Griffin, Amanda Grace Corey, Alyssa Glynn Goodman, Chelsea Marie Grissett, Kaylee Joanna Zettler, Marlecia Jakia Grant, John Thomas Goldman, Alexus Aliyah Graham, Kristen Bailey Googe, Brooklyn Paige Hill, Alena Marie Calderon, Ta'Nika Ja'Nae Williams, Noah James Boudreau, Chason Daye Spivey, Simone Sharod Amos, Vonyetta Denise Hollomon, Zaria Asanti Jones, Kaitlin Nicole Nabors, Alisia Jade Armstrong, Ana Emilia Calderon, Somai Rebekak Fikes, Ta'Wanna La'Shae Grady, Traylan Antonia Talley, LaQuisha Chiquita Earl, Nakita Darcell Davis, Kaylah Alexandria Roberts, Kourtlynn Rachel Marie Drury, JacQueta Mercedes Williams, Miguelito Tyberiois Victor Winford, Joquarius Keith Dancy, Elizabeth Marie Jackson
HONORS
Jasmine Jamya Armstrong, Nakia Alizabeth Holton, Krislyn Victora Brown, Acacia Clybreawna Brown, Joshua Lee Brown, Nyeshia O'Hara, Joshua Leigh Reed, Allison Samone Terrell, Destiny Kiara Clark, Jayla Lashae Wilson, Zaire Avanti Jones, Edwin Mauricio Trejo, Jeffery Powe, Jr., Victoria Page Lovette, Tyler Emmanuel Bolden, Breana Ross Cherry, Terry JoeVaughn Flowers, KaDetra Shunte Williams, Keyana Labresha Boyd, Anthony Lavon Mosley, Jr., ZiBrandon Raekwon Lashaw McNeil, Barbara Ann Pritchard, Jarius Javonte Griffin, Kristian Alanna Turner, Kadashia Keianna Naylor, Joscelyn Janae Rue, Julius Malik Turner, Jasmine Jha'Nell Thomas, Demarcus Laquan McFarland, Elizabeth Ann Davis, Anna Louise Nicole Taylor, Caitlyn Wesleigh Marie Hearn, Caro'Lon Savoyia Hill, Redarius Antonio Fowler, Javier Perez, Quincy Charles Lenton, Jr., Cierra Symone Horn, Troy Douglas Carter, Jr., Aleeyah Ruth Griffin, Kailah Sharay Tubbs, Mary A'Sha Cherelle Key, Bria Loneshia Dukes, Destiny Makala McMillian, Kaleb John Williams, Ambreia Kai Parker, Darnell Tyree Morgan
GRADUATES
Tamila Shanay Abrams, Roger Roshun Starks Adams, Ursula Me'Kia Adams, Jeresis Noemi Felicano Agosto, Deunta Marquis Alford, Theandrea Quantrell Altman, Zachary Louis Alvarez, Frynecia' Simone Alvis, Tommy Andre Amerson, Jr., Zoya Xenatra Anderson, A'Taajah Da'Jour Andrew, Sydney Charisse Andrews, Darius La'Shon Arrington, Terry Le'Otis Artis, TaMera Dionna Atterberry, Ta'Leesha Tykeon Avery, Jonquereon Chamar Chamon Ball, David Ramon Marquell Barfield, Johniqwilla Denise Barfield, Charia Monique Grace Baylor, Isaiah Traevon Donte Baylor, Altrevius Delbrunta Bell, Janerio D'Wonne Bell, Kadarius Wanya Blakley, Ke'Dysha Leanna Bloxson, Cedrick Roshaun Adams Bonner, Jr., Rachel Ailene Bowen, Daeshonae Irene Breland, Nicholas Darnell Breland, Adunus Jermone Brooks, Jr., Aleshia Nikia Brown, Chrishawna Tierra Brown, Jairus Kyron Brown, Breunte Spring Brunson, Aaliyah Lauryn Bryant, Ebonie Tra'Man Burnett, Edward Shuneka Carr, Juan DeJesus Chagolla, Za'Carrius Ramon'Clark, Kashawna Hopson Cofield, Billy Ray Cole, Jr., Roshieka Tytesha Cole, Ron Darius Devon Coleman, Jamal De'Shawn Collins, Daniel Lavell Crowell, Jr., Alexias Raevon Daniels, Antonio Da'Don Davis, Kabria Lashae Zyesha Davis, Raekwon De'Shawn Monterris Davis, Shanayzia Shadasia Shateria Davis, Moneshia Monique Dawson, Joseph Sergey Dipalma, Marquise Jaivon Dixon, Larry William Dock, Jr., Jasmine Lashae Dunnigan, Miguel Antonio Easley, Jr., Janiah Vontris Easley, Bryce Kacquan Essix-Carr, Shaquiriana Lasha' Evans, Sterlicia Brenae Evans, Clydarius Jamal Everett, Jackson Day Florey, Gavin Remon Franklin, Jahquaveon Tyquhese Fulgham, Quentashia Lyshan Garner, Latisha Keyarah Gatling, Jakiera Mone Gaston, Ariel Vanessa Gibbs, Joe Wilante Goodwin, Adrion Andreas Gordon, Antonio Dewayne Gordon, Terrence Demetrius Gordon, Willie Earl Grady, IV, Sanderica Denise Granger, Joshua Keasean Grant, Justin Dae'Quan Grant, Kavon Jaquarius Green, Ti-Taevrian Lakenzal Tarquine Hall, Marlon Lamar Harris, Jr., Patrick Laverne Harvey, Jr., Avery Caroline Harwell, Robert Joe Hawkins, Jr., Cameron Andrew High, Johnathan RayShon Hill, Jr., Keyonna Tajohnna Raishel Hill, LaTerry Darnele Hill, Tanisha Shauntel Hill, Tyne'sha Rachelle Hill, Joshua Edward Hinton, Akalah Ashli Hodge, Andrea Danielle Hood, Terra Shamon Hopkins, Tyreaunna Monea Horn, Keith Deshawn Horne, Jasmine Ayana Houston, Kimberly Dashay Houston, Sha'Tia Andria Chenise Houston, Isaiah Antoni Howard, Zanay Sheque Renea Hughes, Javon Latarry Hundley, Brittany Shade Hurst, Mikazia Den'Shai Ivory, JaQuan Arnez Jackson, Kayla D'Sondra Jackson, QuaShun Montarrian Jenkins, TyTion Zarkidz Jenkins, Morgan Elizabeth Jennings, Demetrice Dontray Johnson, Leneisha Bernell Johnson, Demetria Shanbrea Jones, JaVontae Keshann Jones, Tavonta Anterrio Jones, Tykeyah Lavon Key, Jakiyah Branae Kilpatrick, Ashley Nicole King, Cavaleer Antwon King, Tanisha Tanae King, Taron Gervis King, James Lanier, Jr., LaShawn James Lanier, Justin William Lard, Dexter Terrell Larkin, Shanitra Queshay Lawson, Timmy Tran Le, Joshua Ja'Onta Leggett, Christina Michelle Lewis, Kerwin Isaiah Lizana, Talissa Latriese Luckey, Nicklaus Juwan Ludgood, Joshua Van Buren Lyons, Laquondra Shaneshia Martin, Trinity Shantal Martin, Kelvin Sadarron Lee Mauriscey, Barry Tyshawn McCaleb, Jaquwiveyis Tiqueese Jabre McClelland, Carmen Lochelle McCoy, Khalia Lakaia McDonald, Tracey Grace McVay, Aaliya Demetri Miller, Ja'Maine Deshun Miller, Rai'Necia Teshae Miller, Qua'Cajashia Dasmeyanta Fenik Moffite, Cameron Travell Moore, Cardarius Demetrius Moore, De'Asia De'Toria Moore, Jo'Hannah Rochelle Moore, Presious Lashay Moore, Regi Shawnterio Moore, Shatoffa Antranette Moore, Anthesia Tydejah Shaunta Mosley, Terry De'Vonte Mosley, Tariah Tyionia Mouton, Elton Tavares Neal, II, Ranastassia Anastasia Neal, LaRaja Branne Nicholas, YaVonna Kimberly Norris, Tekia Lenese Owens, Antonyo Rodrecus Pace, Jr., Jonthan Rashad Parker, TaMondre Daqun Parker, Aswan Kasal Patton, Jr., Kyre Amar Gregory Peak, Alana La'Park Penry, Darrin Demetrius Powell, Jaelin Lashawn Price, Moshia Menik Ray, Charles Erion Reed, Travis Dewayne Reed, Jeremy Lamar Rice, Brice Christrian Richardson, Quenshia Inez Roach, Jamal Lashon Roberts, Corey Kardell Robinson, Jasmaine Jainlle Robinson, Aaron Quadrella Roland, Timerica Juaoquim Rose, Brandon Terrion Rue, Jenecia Jibresha Ruffin, Rashad O'Brien Ruffin-Shaw, TKeyah Keymah'h Rush, DeShika LeFaye Deneal Blanks Sanders, Chase Anthony Scarbrough, Jatavis Deavonte Scott, Jermaine Dashon Scott, Jr., Auto Deveris Scott, BreNaisha Shatairus Laquate Scott, Don'TaiDre McGail Scott, Zi'Bresha Lashay Scott, Malik Quntavus Cartez Seals, La'Tia Lemond Shaffer, Richard Eugene Shelton, Candace Elaine Shine, Ayanna Latrice Smith, Cortney Antionna Smith, Gaython Wayne Smith, Jr., Kayla Ariyana Smith, Myracle Yithasia Denise Smith, Shybriana Tisha Smith, Tyriq Danjuiel Spencer, Albert Stefon Stevens, Noah Wade Stiltner, Quadejah Shante Nicole Thames, Ziquieshia Keonshal Thames, Kailan Kwaniyah Thomas, Shamika LaQuantay Thomas, Kelsey Kiara Triplett, Johnny Jaquan Trotter, III, Kudarrius Devonte Tubbs, Lamarcus Quanderrious Tubbs, Kartecia Verique Turner, Treyvon Denzel Jerry Walker, Jew'Qyosi Malikk Warren, LaNautica Jima Frenshae Warren, Quintrayvous Shaveontae Warren, Raheem Shaukur Amur Arbriau Warren, Morgan Stanleigh Wash, Donte' Devon Wilburn, Hikeem Dazhon Williams, JaQuarius Travon Williams, Ma'Laysia La'teria Williams, Ta'Darious Sanchez Williams, Tyler Maleek Windham, Brooklyn Majesty Young, Cailia La-Shun Young, Martha Coleman Young, Tieara Oreona Young