« Back to news list
December 2016 Teachers of the Month - Kristie Temple, Yolanda Davis, & Tiana Brown
Congratulations to who were honored as December Teachers of the Month with a surprise classroom visit, $25 gift card, and roses.
Magnolia Middle School – Kristie Temple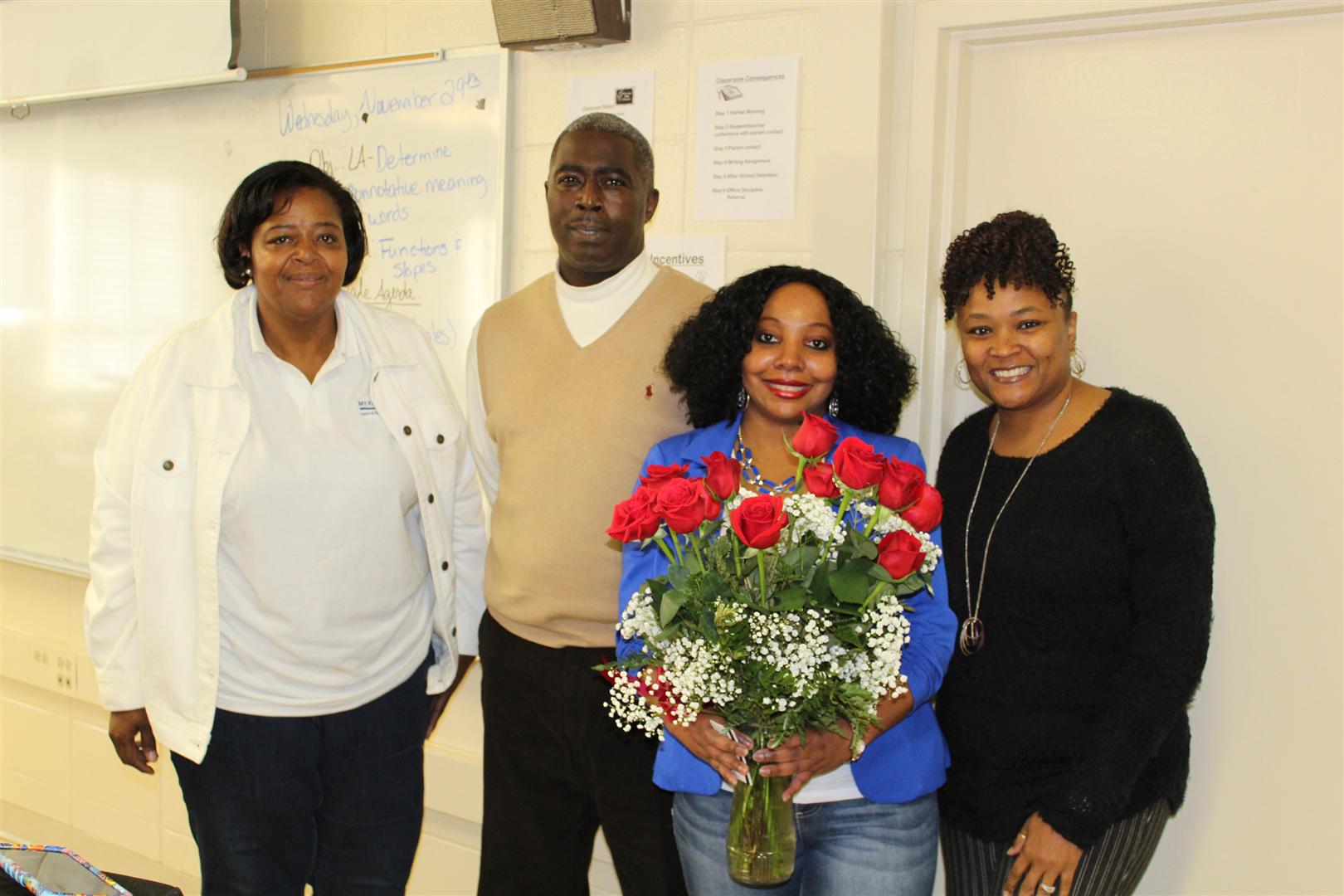 Pictured from left to right: Jacquelyn Leggett, City of Meridian Parks and Recreation; Sherrod Miller, Magnolia Middle School Assistant Principal; Kristie Temple, Magnolia Middle School Teacher of the Month; and Renee Smith, Magnolia Middle School Counselor
Ms. Kristie Temple was chosen as Teacher of the Month because she has shown a lot of growth and development as a teacher. She has a great work ethic, and she rarely misses work. Ms. Temple submits her paperwork in a timely manner and she is very thorough. In addition, Ms. Temple is a team player, and she has a positive relationship with, not just her students, but all students.
Parkview Elementary School – Yolanda Davis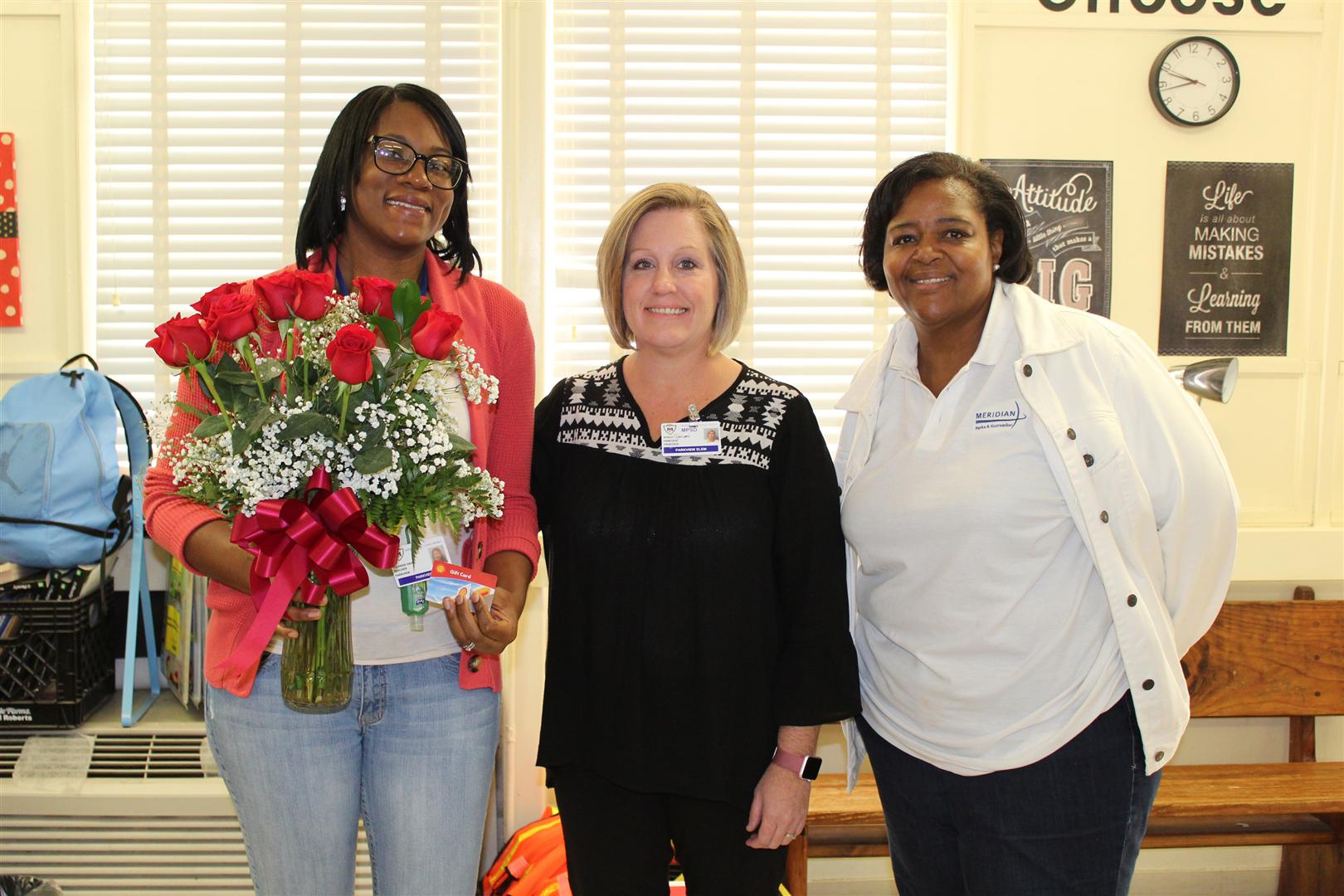 Pictured left to right: Yolanda Davis, Parkview Elementary School Teacher of the Month; Shelia Radcliffe, Parkview Elementary School Principal; and Jacquelyn Leggett, City of Meridian Parks and Recreation
Yolanda Davis is a fifth grade English and Language Arts teacher at Parkview Elementary School. Ms. Davis has excellent classroom management skills, and she has great relationships with her students. Ms. Davis is a dedicated teacher who works diligently to ensure her students are prepared academically and socially.
Crestwood Elementary School – Tiana Brown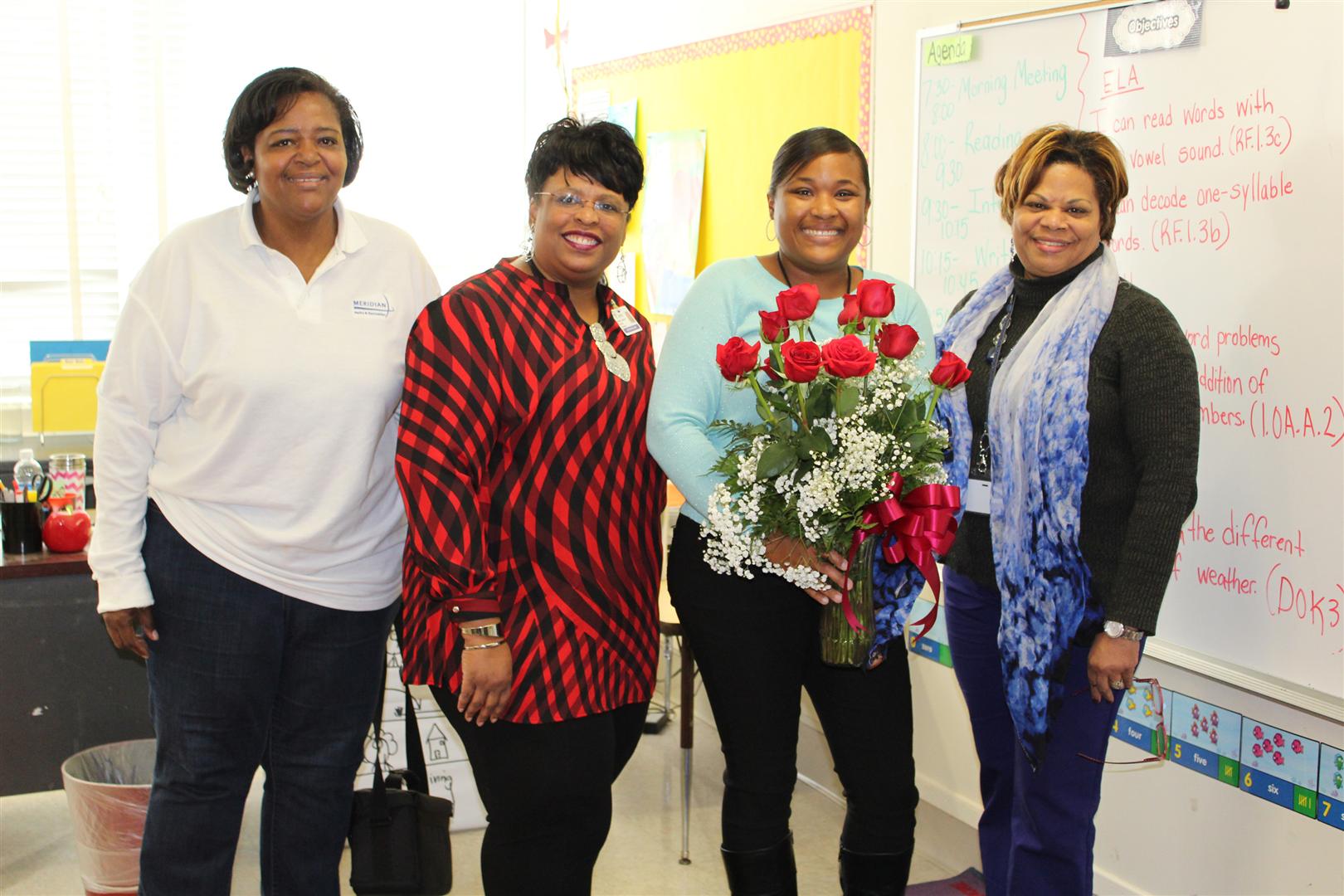 Pictured left to right: Jacquelyn Leggett, City of Meridian Parks and Recreation; Kimberly Kendrick, Crestwood Elementary School Principal; Tiana Brown, Crestwood Elementary School Teacher of the Month; and Rosalind Operton, Crestwood Elementary School Lead Teacher
Tiana Brown served as a teacher assistant at Crestwood Elementary School until September of this year when, because of her commitment to professional growth and our students, she became a certified teacher. Ms. Brown stepped into this teaching position, and she is doing a fantastic job. Students in her classroom are growing academically, and she is an essential part of her team. The Crestwood Team truly appreciates Ms. Brown's commitment to our children and is very excited about the professional growth she is demonstrating.
Mayor Percy Bland, Meridian Parks and Recreation Director Kelvin McGruder, and local businesses, Cartoons and Balloons and Nino's Daycare, will be recognizing an outstanding teacher or staff member from two MPSD schools a month during the 2016-17 school year.
Congratulations to Kristie Temple, Yolanda Davis, and Tiana Brown! We are very proud of you!