« Back to news list
Twelve MPSD Schools Named PBIS Model School Sites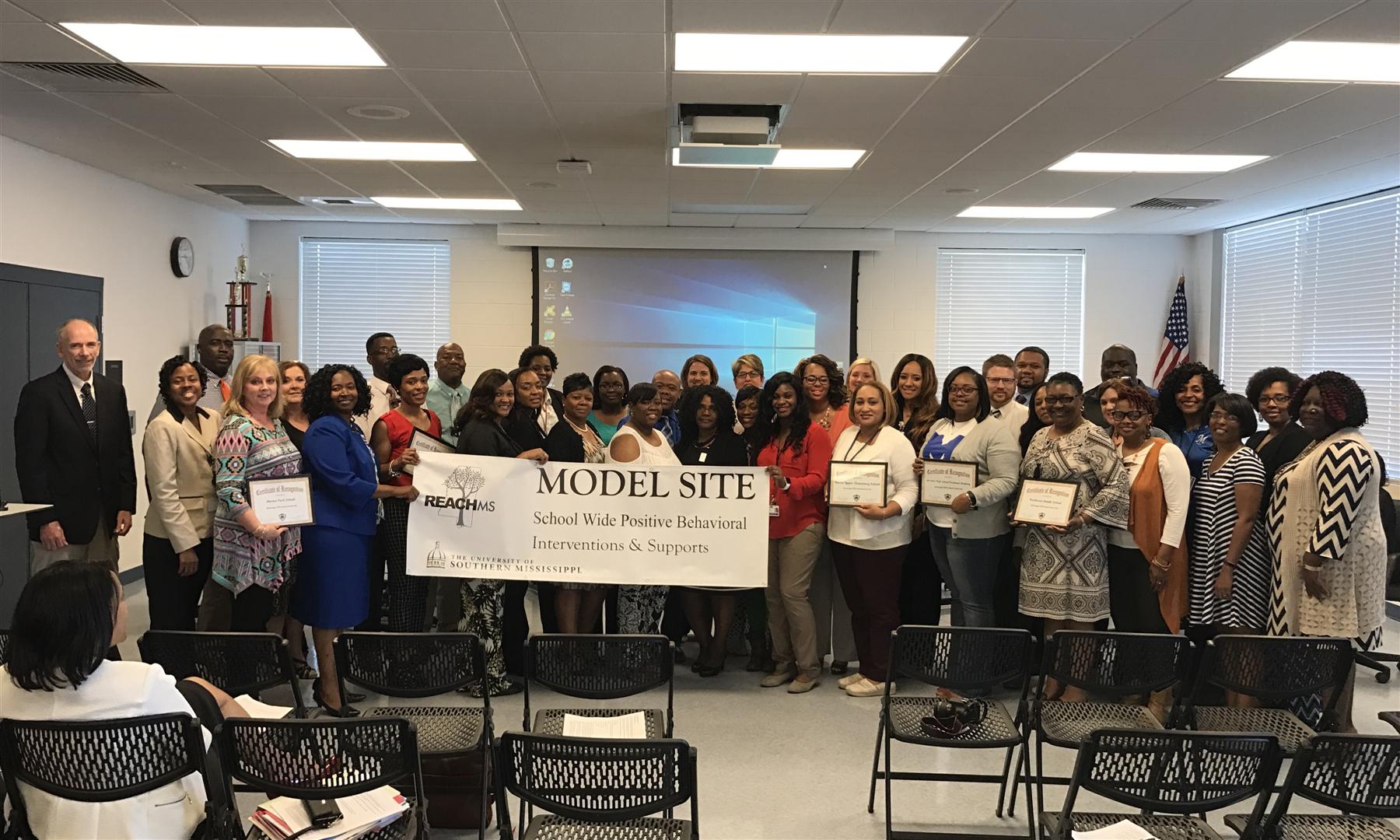 School Teams from the twelve PBIS Model School Sites were honored at the March Board Meeting.
Being safe, responsible, and respectful are just a few of the behavioral expectations that faculty, staff, and students demonstrate every day in the Meridian Public School District. In recognition of this hard work, twelve of thirteen schools have been granted the status of being a Positive Behavior Interventions and Supports (PBIS) "Model Site" by Realizing Excellence for all Children in Mississippi (REACH MS).
Discipline administrative teams from Crestwood Elementary School, T.J. Harris Lower Elementary School, T.J. Harris Upper Elementary School, Oakland Heights Elementary School, Poplar Springs Elementary School, West Hills Elementary School, Carver Middle School, Magnolia Middle School, Northwest Middle School, Meridian High School Freshman Academy, Meridian High School, and Marion Park Alternative School were honored for this accomplishment by members of the MPSD Board of Trustees at the regularly scheduled Board meeting on Monday, March 20.
Selina Merrell, PBIS Coordinator for REACH MS, said, "The twelve schools recognized are the most ever in the state to receive recognition at one time within a district. It's also important to note that Meridian is now home to one of only two alternative placement schools in the state with Model Site status."
Model Site status is awarded to schools across the state that have been evaluated using a nationally recognized process known as the School Evaluation Tool (SET) to determine the level of implementation and fidelity of PBIS. PBIS is a proactive, data based, educative process of creating discipline systems in the school community that support both staff/faculty and student behavior. Schools recognized are places where administrators, teachers, counselors, and others can visit to learn and experience an environment that is advantageous to learning.
According to Howard Hagwood, PBIS Director for the district, MPSD introduced PBIS district-wide during the 2013-14 school year. "We are pleased that twelve of thirteen schools have been recognized by the state, and we look forward to having all of our schools recognized with this prestigious status," said Hagwood. "It has been a long journey for our district to achieve this recognition, and it is my hope that the community appreciates the hard work of our students, parents, teachers, and administrators."
MPSD entered into an agreement with the U. S. Department of Justice in 2013 to provide fair and consistent discipline policies and procedures. The PBIS Model Site recognition follows the district's previous recognition for other accomplishments related to student discipline at the "Rethinking School Discipline" gathering at the White House in July 2015. MPSD continues to participate in Rethinking School Discipline regional convenings.
"It has been such a privilege and honor to see our schools recognized on national and state-wide levels for the work that has been done to improve student discipline," said MPSD Superintendent Dr. Amy Carter. "I am so thankful that our students, parents, teachers, and administrators continue to receive recognition for these accomplishments."