« Back to news list
MPSD introduces new District logo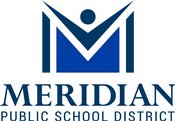 New MPSD Logo
We are very excited about the great things taking place in the first part of 2018 in the Meridian Public School District! Today, we are unveiling a new modern MPSD logo.
"The new logo symbolizes our focus on educational excellence as we strive to prepare students for their future. We've kept the traditional blue color, but wanted the image to be more modern," said Dr. Amy Carter, MPSD Superintendent. "With our focus on reaching students through the academics, arts and athletics and continuing to embrace technology, the time was right to enhance our visual identity as well."
You will begin seeing the new logo gradually as it will be implemented across our social media platforms and website to start with and then to printed material as the time comes. Please be patient with us as we introduce our new logo in phases.